Network
The Case For Social Media in Schools. A year after seventh grade teacher Elizabeth Delmatoff started a pilot social media program in her Portland, Oregon classroom, 20% of students school-wide were completing extra assignments for no credit, grades had gone up more than 50%, and chronic absenteeism was reduced by more than a third.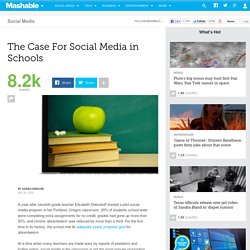 For the first time in its history, the school met its adequate yearly progress goal for absenteeism. At a time when many teachers are made wary by reports of predators and bullies online, social media in the classroom is not the most popular proposition. Teachers like Delmatoff, however, are embracing it rather than banning it. They argue that the educational benefits of social media far outweigh the risks, and they worry that schools are missing out on an opportunity to incorporate learning tools the students already know how to use.
What started as a Facebook-like forum where Delmatoff posted assignments has grown into a social media component for almost every subject. Education 2.0 social network for your class - Diipo LLC. Twiducate - Social Networking For Schools. Login (2) My orkut. Welcome, Paul! Talk - Blueprint.
---