Homework Debate
Overscheduled children and adolescents. Public release date: 31-Mar-2011 [ Print | E-mail Share ] [ Close Window ] Contact: Sarah Hutcheonshutcheon@srcd.org 202-289-7905Society for Research in Child Development Popular books and media reports have perpetuated the belief that children and adolescents are overscheduled in their extracurricular activities, and that this can disrupt how families function and undermine young people's opportunities for success.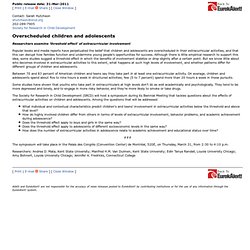 Homework. Main objectives and reasons for homework The basic objectives of assigning homework to students are the same as schooling in general: to increase the knowledge and improve the abilities and skills of the students.[1] However, opponents of homework cite homework as rote, or grind work, designed to take up children's time, without offering tangible benefit.[2] Homework may be designed to reinforce what students have already learned,[3] prepare them for upcoming (or complex or difficult) lessons, extend what they know by having them apply it to new situations, or to integrate their abilities by applying many different skills to a single task.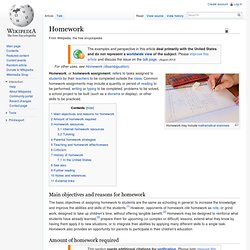 Homework also provides an opportunity for parents to participate in their children's education. Amount of homework required. The homework myth. "Parents take note: this is a stinging jeremiad against the assignment of homework, which the author, a prominent educator, convincingly argues is a wasteful, unimaginative, and pedagogically bankrupt practice that initiates kids into a soul-sucking rat race long before their time.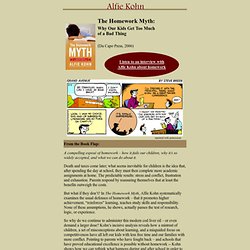 " --Atlantic Monthly "The Homework Myth should be required reading for every teacher, principal, and school district head in the country. . . . Kohn cites plenty of research to back up his thesis. None of it shows the slightest connection between homework and independent thinking. Kohn argues that homework is a burden to children, and, not surprisingly, their parents. . . . Rethinking Homework.
January/February 2007 Rethinking Homework By Alfie Kohn After spending most of the day in school, children are typically given additional assignments to be completed at home.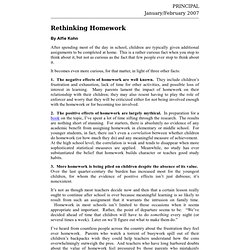 This is a rather curious fact when you stop to think about it, but not as curious as the fact that few people ever stop to think about it. It becomes even more curious, for that matter, in light of three other facts: Homework. Conversations Show #13 - 2008 10 19. Printer-friendly version Send by email 65:23 minutes (29.93 MB) MP3 Stereo 44kHz 64Kbps (CBR) Homework was the topic of Conversation this week.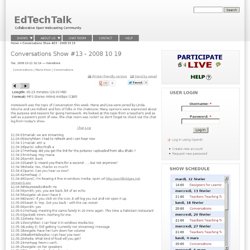 Maria and Lisa were joined by Linda Nitsche and Lee Kolbert and lots of folks in the chatroom. Many opinions were expressed about the purpose and reasons for giving homework. NPR Homework Myth.
---