Resources
Quizinator is free to use, for as long as you want. Seriously. Additional premium features will be available soon for a subscription, but the core features of Quizinator will always be free. Flexible and Customizable Use our customizable, drag and drop, question libraries to quickly create worksheets, studysheets, handouts, exams, quizzes, and more.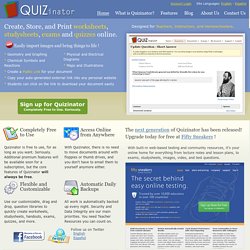 This brain break will see how agile your arm is. Brain Breaks are refreshing and help to get your productivity back up to par. This brain break is from a colleague Randy Smith. Back in the day Randy was a waiter. He imagines himself with a load of dishes in his hand.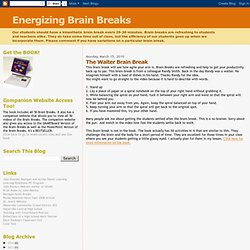 The Waiter Brain Break
Theories and Models of Learning for Educational Research and Practice. This knowledge base features learning theories and models that address how people learn. A resource useful for scholars of various fields, including educational psychology, instructional design, and human-computer interaction. Below is the index of learning theories, grouped into categories. Note that this website is an iterative project and these entries are a work in progress; please leave comments with suggestions, corrections, and additional references.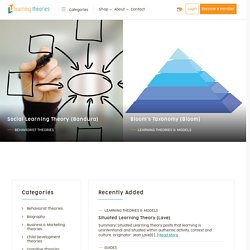 What's Here for Educators?
Latitude
The Internet Is Rich With Free Tools for Educators. Here's A Bunch. I've been meaning to put together this list of the many free apps that I've blogged about, and make it available as a tabbed section on the site. I've got the list mostly together now and realized it would make for a nice mid-week post. All of the articles below reference free technologies and/or resources.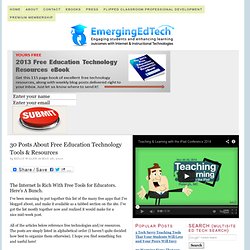 Technology in the Classroom: Tips, Reviews & Tools to Implement Useful Technology in the Classroom