Linq
Linq - Convert Dataset to IQueryable<T> or IEnumerable<T> C# - Linq to sql convert IQueryable to Dataset. LINQ to SQL Paging using GridView in C# and ASP.NET 3.5. This tutorial will show you how we can extend the LINQ to SQL Class and create methods that will allow us to page data from a SQL database.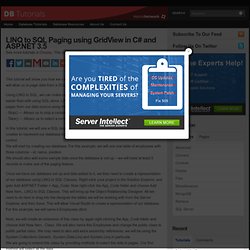 C# version. Using LINQ to SQL, we can make use of the built-in methods to page the database data a lot easier than with using SQL alone. LINQ to SQL can make it extremely easy for us to create pages from our data source using these two methods: - Skip() — Allows us to skip a certain number of records; - Take() — Allows us to select a certain number of records. In this tutorial, we will use a SQL database and extend the LINQ to SQL Class that Visual Studio creates to represent our database by allowing the user to page the data displayed in a GridView control.
We will start by creating our database. Converting anonymous types to any type. Introduction This article describes how to handle conversions from an anonymous type to a specific type by using .NET 3.5 extensions.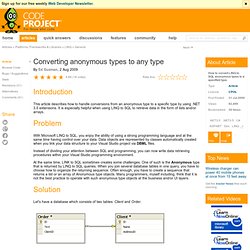 It is especially helpful when using LINQ to SQL to retrieve data in the form of lists and/or arrays. Problem With Microsoft LINQ to SQL, you enjoy the ability of using a strong programming language and at the same time having control over your data. Data objects are represented by classes automatically created when you link your data structure to your Visual Studio project via DBML files. SQL Server 2008 Connection String Samples. 101 LINQ Samples. LINQ to SQL - Detach Entities. Download source - 220.6 KB Introduction How do I use disconnected entities with LINQ to SQL?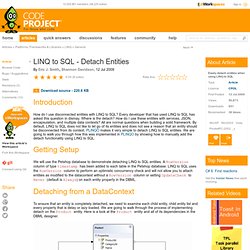 Every developer that has used LINQ to SQL has asked this question in dismay. Where is the detach? LINQ to SQL: .NET Language-Integrated Query for Relational Data. MSDN Library Articles and Overviews .NET General LINQ: .NET Language Integrated Query.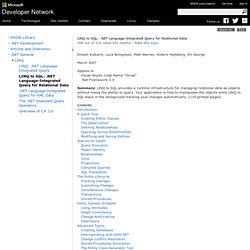 LINQ To SQL and the Web.Config ConnectionString Value. I just got had by an odd behavior in the LINQ to SQL model designer when working with a LINQ to SQL Model in a separate class library project.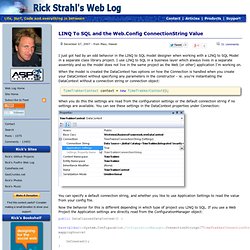 I use LINQ to SQL in a business layer which always lives in a separate assembly and so the model does not live in the same project as the Web (or other) application I'm working on. When the model is created the DataContext has options on how the Connection is handled when you create your DataContext without specifying any parameters in the constructor - ie. you're instantiating the DataContext without a connection string or connection object: Simple GridView Binding using LINQ to SQL. Download source - 285.21 KB Introduction This article will be very useful to all users who are working with ASP.NET 3.5 GridView control and want to data bind the control using LINQ to SQL, utilizing either Lambda expression or precompiled stored procedure.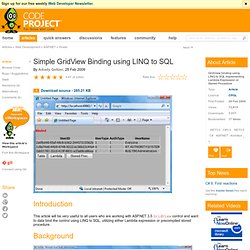 Background.
---