Music
New and Hot Video: Premiere: Martin Solveig, 'The Night Out Live at Studio Ferber' | Rolling Stone
2 Live Crew - Banned in the U.S.A. 2 Live Crew - Get it Girl 2Pac - Me Against the World 2Pac ft. KC & Jojo - How Do U Want It 8Ball & MJG - You Don't Want Drama 50 Cent - Disco Inferno 50 Cent - Get Up 50 Cent - Wanksta 50 Cent - Window Shopper a-ha - Take on Me Aaliyah - Try Again Afro-Rican - Give it All You Got (Doggy Style) Christina Aguilera ft. Nicki Minaj - Woohoo Amerie - Why R U Aphex Twin - Windowlicker Arcade Fire - Wake Up Art of Noise - Moments in Love Arts & Crafts - Surely B.o.B. ft. Bruno Mars - Nothin' on You B.o.B. ft.
Girl Talk - All Day Samples List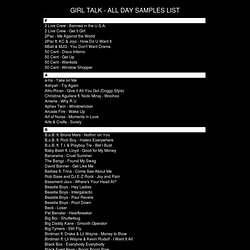 Beatport topping outings and high-profile collaborations are just some of the assets now associated with young Swedish leader Alesso. Now a formative figure amid the rising armada of Scandinavian talents, further spots across the globe and at some of the most prestigious summer festivals have established that Alessandro Lindblad. Joining Pete Tong on the prestigious airwaves of Radio One, the young Swede dons his superior musical insight to a two-hour showcase of his well-received Progressive stylings, drawing on a host of the highly acclaimed gems that has sealed his name as a European heavyweight in such a relatively short space of time. Packing his session with an array of exclusive cuts, including the vocal cut of his next single 'Years' and forthcoming collaborative endeavour 'Eclipse (Why Am I Doing This)' alongside Steve Angello and Sebastian Ingrosso, Alesso makes good use of his time on the air at BBC Radio One.
Alesso - Essential Mix - 24-03-2012 | Beat My Day - It's all about the house music!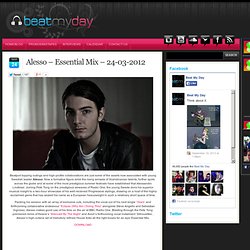 Nicolas Jaar to Release a Cube of Music
Johan Reinhold offers a new outlook of his hit electro-pop masterpiece 'Shoot Me Down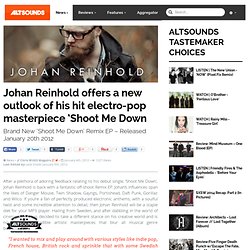 After a plethora of adoring feedback relating to his debut single, 'Shoot Me Down', Johan Reinhold is back with a fantastic off-shoot Remix EP. Johan's influences span the likes of Danger Mouse, Twin Shadow, Gayngs, Portishead, Daft Punk, Gorillaz and Wilco. If you're a fan of perfectly produced electronic anthems, with a soulful twist and some incredible attention to detail, then Johan Reinhold will be a staple diet for your MP3 player. Hailing from Sweden, and after dabbling in the world of cinema, Johan has decided to take a different stance on his creative world and is now crafting incredible artistic masterpieces that blur all musical genre boundaries. "I wanted to mix and play around with various styles like indie pop, French house, British rock and sprinkle that with some Swedish melancholy, taking me back to the sounds that really influenced my younger years." – Says Johan Reinhold
20 Tracks You Might've Missed