Google
Health
Following a blog shows authors and readers of the blog that you're a fan, and you can keep track of the blogs you follow via your Reading List on the Blogger dashboard. How do I follow blogs? There are several ways to follow a blog. One of the easiest ways is to visit a blog that has added the Following widget and click on the "Join this site" button under the "Followers" widget: After you sign in with your Google Account (or another account if you so choose), you'll then see a popup window with the options to either follow publicly or privately.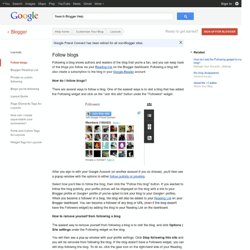 Timeline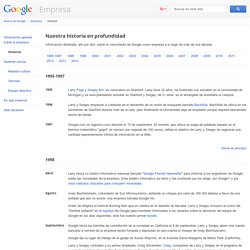 Get the details, year by year, on Google's growth as a company over more than a decade. Larry Page and Sergey Brin meet at Stanford. Larry, 22, a U Michigan grad, is considering the school; Sergey, 21, is assigned to show him around.
WebGL not supported This product uses WebGL, which your browser does not appear to support. Possible reasons: Your Web browser actually doesn't support WebGL.Check this page for a list of browsers that do.Your video driver or operating system is not supported.To ensure fast performance and prevent crashes, some browsers that support WebGL deactivate it for particular video driver and operating system versions. (For some browsers it is possible to override this -- you can manually turn WebGL back on by changing a setting.