Technology in education (general)
EdTech Cheat Sheet
There are many benefits to teaching young people to code.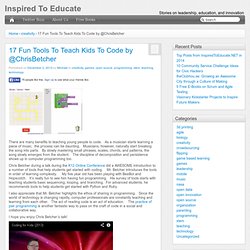 Inspired To Educate
Digital citizenship is " the norms of appropriate, responsible behavior with regard to technology use."
Awesome Digital Citizenship Graphic for your Classroom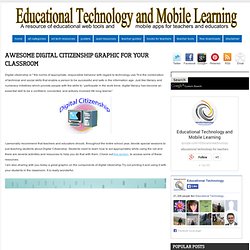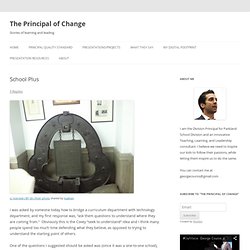 School Plus | The Principal of Change
cc licensed ( BY SA ) flickr photo shared by ksablan I was asked by someone today how to bridge a curriculum department with technology department, and my first response was, "ask them questions to understand where they are coming from."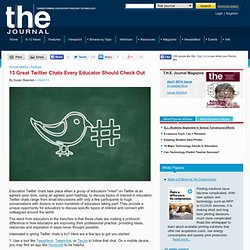 13 Great Twitter Chats Every Educator Should Check Out
Education Twitter chats take place when a group of educators "meet" on Twitter at an agreed upon time, using an agreed upon hashtag, to discuss topics of interest in education. Twitter chats range from small discussions with only a few participants to huge conversations with dozens or even hundreds of educators taking part!
Digital Learning Day: Resource Roundup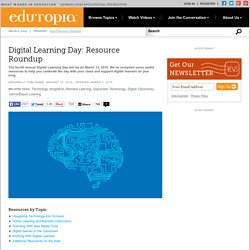 The second annual Digital Learning Day was on February 6, 2013. We compiled some useful resources on digital learning to help you celebrate the day with your class. The second annual Digital Learning Day (1) was on February 6, 2013. We compiled some useful resources on digital learning to help you celebrate the day with your class. Integrating Technology into Schools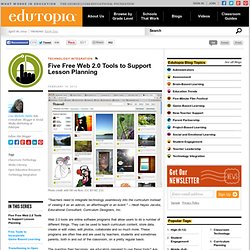 "Teachers need to integrate technology seamlessly into the curriculum instead of viewing it as an add-on, an afterthought or an event." -- Heidi Hayes Jacobs, Educational Consultant, Curriculum Designers, Inc. Web 2.0 tools are online software programs that allow users to do a number of different things. They can be used to teach curriculum content, store data, create or edit video, edit photos, collaborate and so much more.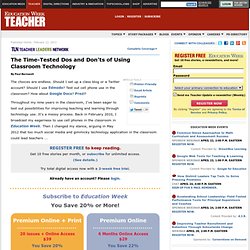 Education Week Teacher: The Time-Tested Dos and Don'ts of Using Classroom Technology
Published Online: February 12, 2013 By Paul Barnwell Premium article access courtesy of Education Week Teacher .
Technology integration by design SmartBlogs
Over the past year, most of my time has been spent helping fellow teachers and school leaders to "think backwards."
A Real Lesson in Digital Citizenship
My students and I had an "a-ha" moment the other day, in terms of digital citizenship and how we really need to think before we post images to the Internet.
Flickr:David Ortez Sometimes teachers and administrators need a kick in the pants to see what they perceive as problems re-framed in a different way.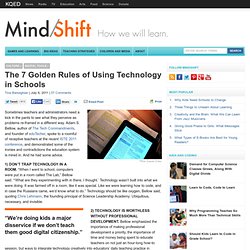 10 steps technology directors can take to stay relevant SmartBlogs
The role of the typical school district technology director has become obsolete. Speak with your average teacher in many school districts in the U.S., and you'll find the technology department is better known for getting in the way than for serving the educational needs of both staff and students.
As technology rushes into schools at an ever-increasing pace, we are constantly bombarded by talk about whatever happens to be hot this week.
Changing the Culture, One Teacher at a Time
Every teacher who has attempted to integrate technology into the classroom knows that getting parents on board can sometimes be a challenge.
How to Gain Parent Buy-In for Classroom Technology Integration
24 Ed-Tech Terms You Should Know
If you're a teacher or administrator who has been to an educational conference or sat in on a product demo featuring the latest classroom innovation, you know that the intersection of schools and technology is littered with buzzwords. From mLearning to mobile apps to asynchronous instruction, the ed-tech landscape is equal parts high-gloss marketing and roll-up-your-sleeves instruction.
Social Media for Kids
Google is usually one of the first places students turn to when tasked with an assignment.
7 Common Objections To Implementing Technology In The Classroom Always Prepped Blog
12 Ways to Make this the School Year of Connected Educators « Evolving Educators
Digital Passport For Children Encourages Responsible Online Behavior
Students and Parents Debrief on Their First Social Media Summer Program
Dispelling the Myths About 1:1 Environments
Blog as Portfolio #Leadership20
Blended Learning: We Are All New Teachers
The Mobile Classroom
Mobile phones in the classroom: teachers share their tips | Teacher Network Blog | Guardian Professional
ASCD Policy Priorities - Policy Priorities - Page 1
Why You Should Talk to Kids About Cyberbullying [INFOGRAPHIC]
Presentation makeover
How This 12-Year-Old Has Already Created 98 Online Games
ED Tech Cheat Sheet Every Educator Should Know about
Eric Sheninger: How Our School Adopted Social Media, One Small Step at a Time
5 ways to develop a connected student SmartBlogs
Top 10 Mistakes When Using Technology
5 ways to teach kids to use technology safely - The Answer Sheet
Plan a "Digital Family Summit" to Engage Students and Parents
Top 12 Ways Technology Changed Learning
envisioning-the-future-of-education
The 3 Biggest Ways Technology Is Disrupting Education Forever
Part One: Ten Steps… Transforming Past Lessons For the 21st Century Digital Classroom
You're a connected educator, now what? SmartBlogs
Once you go flat you never go back SmartBlogs