Technology in education (general)
Teaching Adolescents How to Evaluate the Quality of Online Information. An essential part of online research is the ability to critically evaluate information.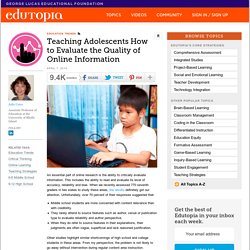 This includes the ability to read and evaluate its level of accuracy, reliability and bias. When we recently assessed 770 seventh graders in two states to study these areas, the results definitely got our attention. Awesome Digital Citizenship Graphic for your Classroom. Digital citizenship is " the norms of appropriate, responsible behavior with regard to technology use.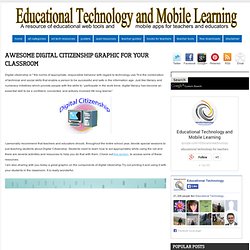 "It is the combination of technical and social skills that enable a person to be successful and safe in the information age. Just like literacy and numeracy initiatives which provide people with the skills to ' participate in the work force, digital literacy has become an essential skill to be a confident, connected, and actively involved life long learner.' I personally recommend that teachers and educators should, throughout the entire school year, devote special sessions to just teaching students about Digital Citizenship.
Students need to learn how to act appropriately while using the net and there are several activities and resources to help you do that with them. Devices Need to Support Learning. So yesterday as I was scanning the #NJED hash tag on TweetDeck I came across this intriguing image shared by Mike Marotta.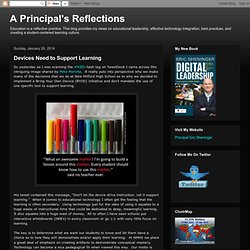 It really puts into perspective why we make many of the decisions that we do at New Milford High School as to why we decided to implement a Bring Your Own Device (BYOD) initiative and don't mandate the use of one specific tool to support learning. His tweet contained this message, "Don't let the device drive instruction. Let it support learning. " Are Your Students Digitally Literate? 10 Resources. Posted by Shelly Terrell on Friday, December 27th 2013 Included in the Digital Tips Advent Calendar and part of the Effective Technology Integration category A computer does not substitute for judgment any more than a pencil substitutes for literacy. ~ Robert S McNamara Our learners live in a connected world where technology impacts their lives daily.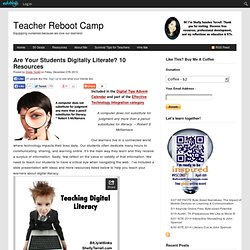 Our students often dedicate many hours to communicating, sharing, and learning online. It's the main way they learn and they receive a surplus of information. EdTech Cheat Sheet. Understanding New Trends in Educational Technology Trying to keep up with all of the new buzzwords in the booming Educational Technology sector can leave you feeling like a kindergartner in a calculus class.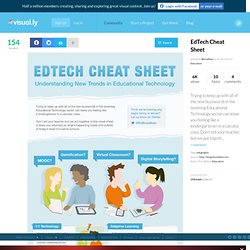 Don't tell your teach, but we put together a little cheat sheet to keep you informed on what's happening inside and outside of today's most innovative schools. Think we're missing any major terms or trends? Let us know on Twitter. @GoBoundless. Inspired To Educate. There are many benefits to teaching young people to code.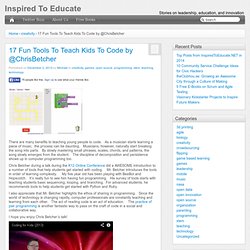 As a musician starts learning a piece of music, the process can be daunting. Musicians, however, naturally start breaking the song into parts. By slowly mastering small phrases, scales, chords, and patterns, the song slowly emerges from the student. Awesome Digital Citizenship Graphic for your Classroom. School Plus.
Cc licensed ( BY SA ) flickr photo shared by ksablan I was asked by someone today how to bridge a curriculum department with technology department, and my first response was, "ask them questions to understand where they are coming from."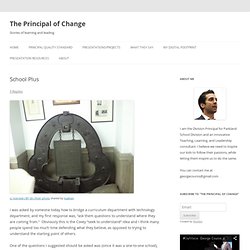 Obviously this is the Covey "seek to understand" idea and I think many people spend too much time defending what they believe, as opposed to trying to understand the starting point of others. One of the questions I suggested should be asked was (since it was a one-to-one school), "What difference does technology have on learning in the classroom?" Her belief was that the response would be that it hasn't changed anything. My follow up question would then be, "So why did you buy the technology?" 13 Great Twitter Chats Every Educator Should Check Out.
Education Twitter chats take place when a group of educators "meet" on Twitter at an agreed upon time, using an agreed upon hashtag, to discuss topics of interest in education.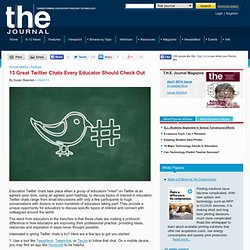 Twitter chats range from small discussions with only a few participants to huge conversations with dozens or even hundreds of educators taking part! They provide a unique opportunity for educators to discuss specific topics of interest and connect with colleagues around the world. The word from educators in the trenches is that these chats are making a profound difference in how educators are improving their professional practice, providing ideas, resources and inspiration in ways never thought possible. Interested in giving Twitter chats a try?
Here are a few tips to get you started: Digital Learning Day: Resource Roundup. The third annual Digital Learning Day is on February 5, 2014.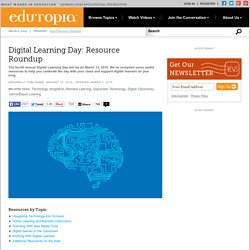 We've compiled some useful resources to help you celebrate the day with your class and support digital learners all year long. (Updated 1/2014) Video: An Introduction to Technology Integration (2012) Integrating technology with classroom practice can be a great way to strengthen engagement by linking students to a global audience, turning them into creators of digital media, and helping them practice collaboration skills that will prepare them for the future. For a look inside the classrooms of educators who use technology tools in their lessons every day, also check out our "Tech2Learn Video Series: Success Stories of Technology Integration in the Classroom.
" Five Free Web 2.0 Tools to Support Lesson Planning. "Teachers need to integrate technology seamlessly into the curriculum instead of viewing it as an add-on, an afterthought or an event.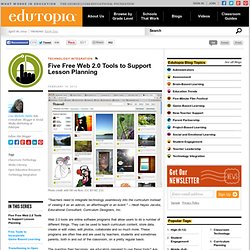 " -- Heidi Hayes Jacobs, Educational Consultant, Curriculum Designers, Inc. Web 2.0 tools are online software programs that allow users to do a number of different things. They can be used to teach curriculum content, store data, create or edit video, edit photos, collaborate and so much more. The Time-Tested Dos and Don'ts of Using Classroom Technology.
UserID: iCustID: IsLogged: false. Technology integration by design SmartBlogs. Over the past year, most of my time has been spent helping fellow teachers and school leaders to "think backwards." And while it's tempting to imagine this merely involves reciting the alphabet from Z to A, it's actually an instructional framework (developed by Grant Wiggins and Jay McTighe) where the goals precede action. Beginning with student-focused goals allows us to ensure that we strategically prioritize time and resources in our classrooms. Although this way of thinking was initially designed for instructional units, it is also the perfect methodology for planning a new technology initiative. In essence, this three-step process helps you to remain hyper-focused on student learning as you select devices, formats (carts, BYOD, 1:1, etc.) and applications.
A Real Lesson in Digital Citizenship. My students and I had an "a-ha" moment the other day, in terms of digital citizenship and how we really need to think before we post images to the Internet. Or maybe even before we take the picture. We are working hard to discourage our students from taking "candids" of each other at school, and more important, from posting those pictures on their favorite social network. I know that may sound strange to many readers, but I teach some very transient, very high-risk kids, and we cannot guarantee the safety of some of our students if other kids are taking their pictures (and then posting them on Facebook to share with friends).
It's a difficult situation. The 7 Golden Rules of Using Technology in Schools. Culture Digital Tools Flickr:David Ortez Sometimes teachers and administrators need a kick in the pants to see what they perceive as problems re-framed in a different way. Adam S. Bellow, author of The Tech Commandments, and founder of eduTecher, spoke to a roomful of receptive teachers at the recent ISTE 2011 conference, and demonstrated some of the ironies and contradictions the education system is mired in.
And he had some advice. 10 steps technology directors can take to stay relevant SmartBlogs. The role of the typical school district technology director has become obsolete. Speak with your average teacher in many school districts in the U.S., and you'll find the technology department is better known for getting in the way than for serving the educational needs of both staff and students. Many technology departments, led by obsolete tech directors, are inadvertently inhibiting learning. The mantra of "lock it and block it" no longer works in a 21st century digital learning environment. Do how can technology directors avoid becoming obsolete? 1. Changing the Culture, One Teacher at a Time. How to Gain Parent Buy-In for Classroom Technology Integration. 24 Ed-Tech Terms You Should Know.
SafeKids.com | Online safety & civility. Social Media for Kids. 15 Lesson Plans For Making Students Better Online Researchers. 7 Common Objections To Implementing Technology In The Classroom Always Prepped Blog. 12 Ways to Make this the School Year of Connected Educators « Evolving Educators. Digital Passport For Children Encourages Responsible Online Behavior. Students and Parents Debrief on Their First Social Media Summer Program.
Cyberbullying Toolkit. Dispelling the Myths About 1:1 Environments. Blog as Portfolio #Leadership20. Blended Learning: We Are All New Teachers. The Mobile Classroom. Mobile phones in the classroom: teachers share their tips | Teacher Network Blog | Guardian Professional. 6 Quick Ways Teachers Can Be Hip. 10 Emerging Education and Instructional Technologies that all Educators Should Know About (2012) ASCD Policy Priorities - Policy Priorities - Page 1. 12 Things Students Should Never Do on Social Media. Why You Should Talk to Kids About Cyberbullying [INFOGRAPHIC] Presentation makeover. How This 12-Year-Old Has Already Created 98 Online Games. ED Tech Cheat Sheet Every Educator Should Know about.
A Simple Guide to All That Teachers Need to Know about Digital Citizenship. Eric Sheninger: How Our School Adopted Social Media, One Small Step at a Time. 5 ways to develop a connected student SmartBlogs. Top 10 Mistakes When Using Technology. The Do's and Don'ts of Supporting the Reluctant Teacher. 5 ways to teach kids to use technology safely - The Answer Sheet. Plan a "Digital Family Summit" to Engage Students and Parents. Are kids really motivated by technology? The 33 Digital Skills Every 21st Century Teacher should Have.
Top 12 Ways Technology Changed Learning. Envisioning-the-future-of-education. The 3 Biggest Ways Technology Is Disrupting Education Forever. The Elements Of A Digital Classroom. Part One: Ten Steps… Transforming Past Lessons For the 21st Century Digital Classroom. You're a connected educator, now what? SmartBlogs. Starter-kit-final. Once you go flat you never go back SmartBlogs.
---