Project Based Learning
Get flash to fully experience Pearltrees
If you're contemplating using Project-Based Learning or are already trying out the latest craze to hit the modern classroom, you should know about this checklist.
Flickr: Scratchpost If kids can access information from sources other than school, and if school is no longer the only place where information lives, what, then happens to the role of this institution?
Last week's question was: What are the Do's & Don'ts of Project-Based Learning? Few people know more about Project-Based Learning than Suzie Boss, and she graciously agreed to respond to this "question of the week."
In my last post about taking PBL projects up a notch (3) , I focused on integration of subject matters and disciplines.
This series is about taking your PBL projects "up a notch." I wrote a blog about how to get started (3) , but after you get started and are familiar with the benefits of keeping it small and focused, what are some of your next steps?
September 2010 | Volume 68 | Number 1 Giving Students Meaningful Work Pages 34-37 John Larmer and John R.
(PRWEB) November 24, 2012 PBL, Project Based Learning (PBL), or Problem Based Learning is a method of instruction where student learning is based upon real world experiences. PBL helps to bridge the gap between the classroom and real life, as students design, create, collaborate and solve problems rather than sit as passive listeners.
Given the number of technology tools being used by educators and students, it's no wonder that mobile technologies and mobile learning are being explored in various implementations. From data collection tools to mobile phones, students are learning at school and on their own. Remember, however, that technology is a tool for learning, so we still need to focus on models that provide engaging uses for these tools.
This is project-based learning, where educational instruction moves away from a traditional academic setting to an active classroom that encourages collaboration and communication among students.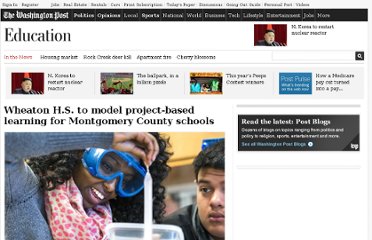 Meeting Common Core Standards requires more emphasis on inquiry and project based learning (PBL.) Increasingly, in the 2012 -2013 school year, teachers will be asked to design and implement high quality, student-focused projects that help students go deeper into subjects, think harder, and perform better.
Before the start of the school year, many of us want to use the remaining weeks of summer to learn some new skills -- such as project-based learning (PBL).
Home » About BIE » What is PBL? In Project Based Learning (PBL), students go through an extended process of inquiry in response to a complex question, problem, or challenge. While allowing for some degree of student "voice and choice," rigorous projects are carefully planned, managed, and assessed to help students learn key academic content, practice 21st Century Skills (such as collaboration, communication & critical thinking), and create high-quality, authentic products & presentations.
For this installment of Schools That Work, we chose Manor New Technology High School, a public high school that is part of the New Tech Network of schools.