Europe / culture
rainbow [Rainbow Paper Online]
Commit to change for Intercultural Dialogue.
Introduction Panorama is a resource offered by the Platform for Intercultural Europe, which was initiated in 2006 (as the Civil Society Platform for Intercultural Dialogue) by Culture Action Europe and the European Cultural Foundation (ECF), with the support of the Network of European Foundations (NEF) and on the occasion of the European Year of Intercultural Dialogue in 2008. Hundreds of civil society organisations and their individuals engaged in intercultural action accross Europe - at local, national and international level, have participated in the Platform during its informal phase; after establishing as an association in 2008, the Platform is open to subscribing members. The context of Panorama
PANORAMA : A resource collection for Intercultural Dialogue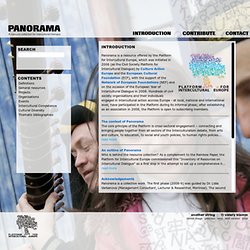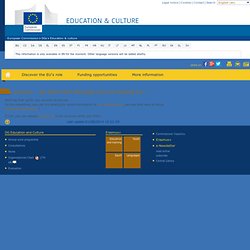 Eve is the electronic platform for the dissemination and exploitation of results of projects supported by programmes managed by the European Commission in the fields of Education, Training, Culture, Youth and Citizenship. Eve is a new tool available for project beneficiaries of the "Lifelong learning", "Culture", "Youth in Action" and "Citizenship" programmes, to have visibility on the European Union website. Eve will acquire much information as the projects develop and the results are introduced by the project coordinators. Through its collaborative approach, the Eve platform is an innovative tool offering users a centralized vision of the majority of funded projects. Eve is a new tool available to project beneficiaries. Eve will acquire much information through the introduction of results by the project coordinators and the progress of its recently launched projects belonging to the current Education and Culture programmes (Culture, Youth in Action, Citizenship, Lifelong Learning, ...).
EVE - European Commission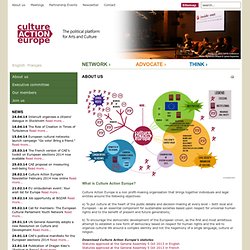 Qui sommes-nous?
What is Culture Action Europe? Culture Action Europe is a non profit-making organisation that brings together individuals and legal entities around the following objectives: a) To put culture at the heart of the public debate and decision-making at every level – both local and European - as an essential component for sustainable societies based upon respect for universal human rights and to the benefit of present and future generations; b) To encourage the democratic development of the European Union, as the first and most ambitious attempt to establish a new form of democracy based on respect for human rights and the will to organize cultural life around a complex identity and not the hegemony of a single language, culture or religion.