Low carb recipies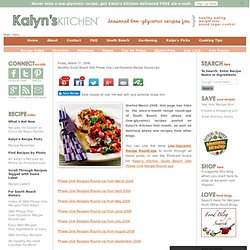 South Beach Diet Phase One Monthly Recipe Round-Ups
Never miss a low-glycemic recipe; get Kalyn's Kitchen delivered FREE via e-mail. Sign up hereClose Open Main menu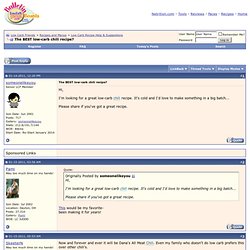 Now and forever and ever it will be Dana's All Meat Chili. Even my family who doesn't do low carb prefers this over other chili's. All-Meat Chili
The BEST low-carb chili recipe? - Low Carb Friends
Recipe - Cheese and Beer Soup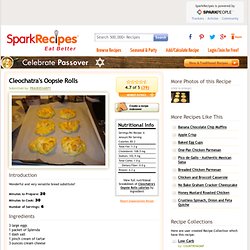 Cleochatra's Oopsie Rolls Recipe
This recipe comes from Cleochatra's "The Lighter Side of Low Carb" blog. There is a lot more about these rolls there, including a recommendation for special pans to cook them in. http://cleochatra.blogspot.com/2008/03/oopsie-perfection-at-good-price.html Preheat oven to 300 degrees. Separate the eggs and add Splenda, salt, and cream cheese to the yolks. Use a mixer to combine the ingredients together.
It's A Snap Cheesecake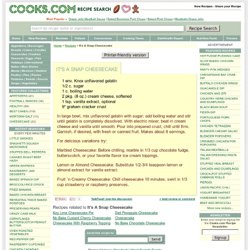 1 env. Knox unflavored gelatin 1/2 c. sugar 1 c. boiling water 2 pkg. (8 oz.) cream cheese, softened 1 tsp. vanilla extract, optional 9" graham cracker crust In large bowl, mix unflavored gelatin with sugar; add boiling water and stir until gelatin is completely dissolved. With electric mixer, beat in cream cheese and vanilla until smooth. Pour into prepared crust; chill until firm. Garnish, if desired, with fresh or canned fruit.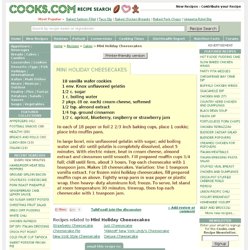 18 vanilla wafer cookies 1 env. Knox unflavored gelatin 1/2 c. sugar 1 c. boiling water 2 pkgs. (8 oz. each) cream cheese, softened 1/2 tsp. almond extract 1/4 tsp. ground cinnamon 1/2 c. apricot, blueberry, raspberry or strawberry jam In each of 18 paper or foil 2 2/3 inch baking cups, place 1 cookie; place into muffin pans.
Mini Holiday Cheesecakes
Light and Super Creamy No-Bake Cheesecake | Gourmeted.com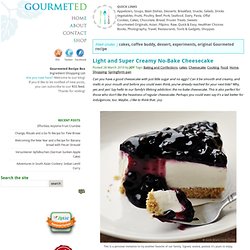 Can you have a good cheesecake with just little sugar and no eggs? Can it be smooth and creamy, and melts in your mouth and before you could even think, you've already reached for your next bite? Why, yes and yes! Say hello to our family's lifelong addiction: the no-bake cheesecake. This is also perfect for those who don't like the heaviness of regular cheesecake.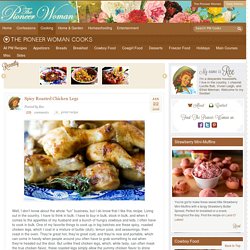 Well, I don't know about the whole "fun" business, but I do know that I like this recipe. Living out in the country, I have to think in bulk. I have to buy in bulk, stock in bulk, and when it comes to the appetites of my husband and a bunch of hungry cowboys and kids, I often have to cook in bulk.
Spicy Roasted Chicken Legs
Your Lighter Side: Recipe: Low carb, gluten free Crispy Inside Out Taquitos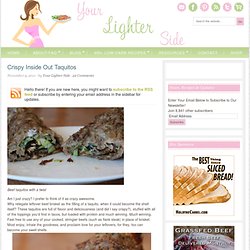 Beef taquitos with a twist Am I just crazy? I prefer to think of it as crazy awesome. Why relegate leftover beef brisket as the filling of a taquito, when it could become the shell itself? These taquitos are full of flavor and deliciousness (and did I say crispy?)
Low Carb Jello Dessert Recipe
Your Lighter Side: Over 275 Low Carb Recipes
Pictured: Meatballs with zucchini pasta All recipes are marked as such: Atkins Induction Friendly = IF Gluten Free = GF Sugar Free = SF Vegetarian = V Vegan = V+ Less than 5 net carbs per serving = -5 TurkeyBacon Wrapped Stuffed Turkey Breasts IF, GF, SF, -5 Veggie Stuffed Chicken Breasts IF, GF, SF, -5 Deep Fried Turkey IF, GF, SF, -5 Brined Turkey IF, GF, SF, -5 Roasted Turkey IF, GF, SF, -5 Smoked Turkey IF, GF, SF, -5 Turkey Taco Shells IF, GF, SF, -5 Turkey Pot Pie IF, GF, SF, -5 Chicken Crusted Ranch Chicken IF, GF, SF, -5 Sesame Chicken GF, SF, -5 Sam's Kicked Up Chicken Wings IF, GF, SF, -5 Boneless Chicken Wings IF, GF, SF, -5 Stuffed Chicken Parmesan IF, GF, SF, -5 Chicken Pot Pie IF, GF, SF, -5 Jerk Chicken IF, GF, SF, -5 Six Cheese Chicken Casserole SF, -5 Zippy Chicken Chinese Stir-Fry IF, GF, SF, -5NEW: Crock Pot Festive Chicken IF, GF, SF, -5 Eggs Hard-Boiled Eggs IF, GF, SF, V, -5Eggs Benedict IF, GF, SF, V, -5Sexy Egg Salad IF, GF, SF, V, -5