Edgoyette
Ed Goyette
Entrepreneur, Professional Coffee Expert, Marketer
Calendar.
To Read. Real Estate. January Topics. Landscaping. New Hampshire Blogs. Seminar Links. Ad Agencies. Good Ideas. 82 Clever and Creative Fred & Friends Products | Abduzeedo | Graphic... I'm sure you've come across Fred & Friend products before at your local indie store and might not have even known it.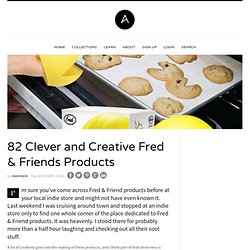 Last weekend I was cruising around town and stopped at an indie store only to find one whole corner of the place dedicated to Fred & Friend products. It was heavenly. I stood there for probably more than a half hour laughing and checking out all their cool stuff. A lot of creativity goes into the making of these products, and I think part of that cleverness is shown in the name of the product and the slogan. Find recipes online &|& Foodily &|& Food, I love you - StumbleUpon.
Skiing
Life Sites. History. Things that Amaze Me. Funny Stuff. Coffee. Jazz & Music. Innovative design. Marketing/Branding.
Pearltrees videos. Help.
---
amsika Jan 19 2011

I'm pleased that you enjoy it :) Yes, I'm the community manager !

edgoyette Jan 19 2011

Do you work for pearltrees? This is a great site
---