Recipes
Homemade Milano Cookies. Posted June 19th, 2012 by girlversusdough Remember that one time we made Homemade Milano Cookies and they were EVEN BETTER?
Aw yeah, me too! Forget what you think about the store-bought cookie, because one bite of these homemade chocolate-filled sandwich cookies and you're going to wish you'd known about this recipe a lot sooner. But no worries! Today is The Day. Doughnuts.doc. Beet. Watermelon, Ricotta Salata. All Recipes.
For freezer
Storage. Let's Do (Soup) Shots. Amuse-bouche meets Animal House in the soup shooter.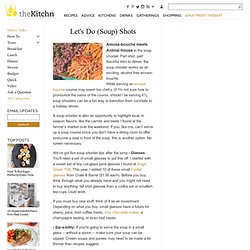 Part shot, part flavorful intro to dinner, the soup shooter works as an exciting, alcohol free amuse-bouche. While serving an amuse-bouche course may seem too chef-y (If I'm not sure how to pronounce the name of the course, should I be serving it?) , soup shooters can be a fun way to transition from cocktails to a holiday dinner. A soup shooter is also an opportunity to highlight local, in season flavors, like the carrots and beets I found at the farmer's market over the weekend. If you, like me, can't serve up a soup course since you don't have a dining room to offer everyone a seat in front of the soup, this is another option. Shallot Confit Recipe - Ben Ford. Make your own freezer burritos! Two words: FROZEN BURRITOS I found out how easy it is to make & freeze burritos when I was pregnant.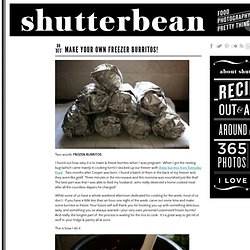 When I got the nesting bug (which came mainly in cooking form) I stocked up our freezer with these burritos from Everyday Food. Two months after Cooper was born, I found a batch of them in the back of my freezer and they were like gold! Three minutes in the microwave and this momma was nourished just like that! How To Make Soup from Almost Any Vegetable.
Soup - it's the easiest way to warm up your kitchen on a cold day, and to feed yourself and your family in one delicious and healthy bowl.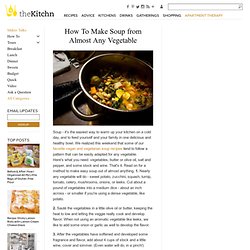 We realized this weekend that some of our favorite vegan and vegetarian soup recipes tend to follow a pattern that can be easily adapted for any vegetable. Here's what you need: vegetables, butter or olive oil, salt and pepper, and some stock and wine. That's it. How To Make a Quick, Vegetarian, One-Bowl Meal. Previous image Next image This template for a quick, vegetarian, one-bowl meal is endlessly adaptable This is our go-to dish for busy weeknights.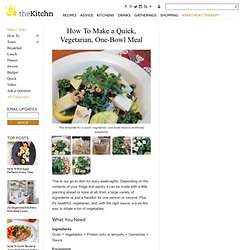 Depending on the contents of your fridge and pantry it can be made with a little planning ahead or none at all, from a large variety of ingredients or just a handful, for one person or several. Make or Buy? Canned vs. Homemade Beans. Beans are absolutely and without a doubt one of the cornerstones of our cooking.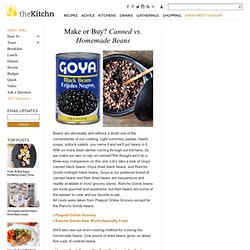 Light summery pastas, hearty soups, potluck salads: you name it and we'll put beans in it. With so many bean dishes coming through our kitchens, do we make our own or rely on canned? We thought we'd do a three-way comparison on this one. Flavor Builders: How to Caramelize Onions. Few things will skyrocket the flavor of your dish quite like caramelized onions.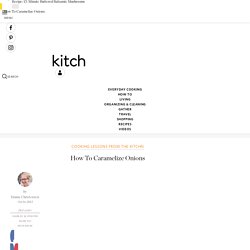 These tender, candy-sweet — yet savory! — morsels turn anything from a burger to a bowl of fresh pasta into something instantly, deliciously gourmet. Accept no imitations: caramelizing onions at home is easy to do. All you need is a few onions, a pat of butter, a pan, and some time. You can't rush true caramelized onions. From the Files: Recipes that Freeze Well. Many of you have been asking for more recipes that freeze well, and we're happy to deliver!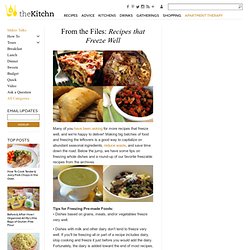 Making big batches of food and freezing the leftovers is a good way to capitalize on abundant seasonal ingredients, reduce waste, and save time down the road. Below the jump, we have some tips on freezing whole dishes and a round-up of our favorite freezable recipes from the archives. Tips for Freezing Pre-made Foods: • Dishes based on grains, meats, and/or vegetables freeze very well.
---