Music
The Killers
Siempre Me Dejas
Zoé Oficial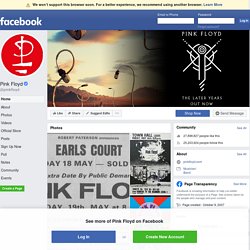 Pink Floyd
The publishers of the Syd Barrett book have launched a competition to win a copy of the Syd Barrett Signature Edition book, numbered 001. Only 500 of these these box set books were ever made and each is hand numbered and individually sign...ed by one of Syd's brothers or sisters. A celebration of Syd's life before, during and after Pink Floyd, the book normally retails at £300/$500. Its very simple to enter; just go to http://barrettbook.com/#win and fill in your name and email address. If you wish you can also get more chances to win using social media.
INSITE
Just Announced: New Runaway Tours private show with Jon Bon Jovi in Las Vegas! Come join Jon Bon Jovi on February 24th to 26th in Las Vegas for a private acoustic at Hard Rock Live on the Vegas strip. The trip cost will include two nights... of accommodations at the Cosmopolitan Hotel, a welcome party, an after show party at the Hard Rock, an autographed photo of Jon Bon Jovi, Hard Rock / Runaway Tours Shot Glass, a special event laminate and trip credential is also included. Extra nights will also be available.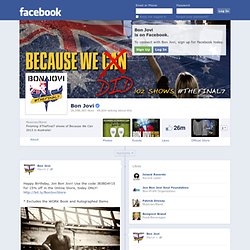 Bon Jovi
(Please note: Contains lots of energy!) Patti's UK Tour Starts tomorrow in Southampton - Full dates and ticket info @ http://www.ents24.com/uk/tour-dates/patti-russo ... QOL: Hello Patti. QueenOnline.com calling. Lets get to it, what is your connection to the Queen Family? PR: Divine Intervention!
Queen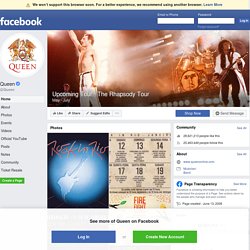 Final steps in our Buenos Aires #GuessTheSetList Contest Using the list below, which we here are in a agreeance on, check against the guess you made in your post and comment on this post with how many songs you guessed correctly. Be sure t...o include a link in the comment that goes to the post with your guess.
Guns N' Roses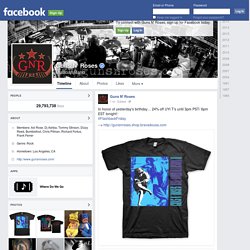 Coldplay
Rock music
Porter
The Scorpions
Their Family-Friendly Restaurant Will Embrace Hawaiian Culture and Cuisine Special KISS Rock & Roll VIP Package Available at The Fair...mont Kea Lani, Maui for the Opening Today, Rock & Brews® announced that KISS rock legends Paul Stanley and Gene Simmons, co-founding partners in Rock & Brews family-friendly, rock-themed restaurants, plan to open a Rock & Brews restaurant in the beach-side, historic community of Pa'ia on Maui in January. The opening of Rock & Brews Pa'ia represents the rock-icons' first in the Hawaiian Islands. An opening celebration is scheduled for Sunday, January 26, with a special KISS Rock & Roll VIP Package available at The Fairmont Kea Lani, Maui, the official resort sponsor of the event. Stanley and Simmons, along with their Rock & Brews co-founding partners restaurateur-hotelier Michael Zislis and concert and merchandising veterans Dave and Dell Furano, have teamed up with longtime Maui residents Mark and Chrystie Blietz for the opening.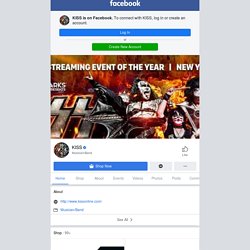 KISS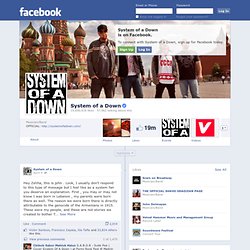 Come see my musical paintings. I'll be hanging out at Project Gallery http://projectla.net/ in Hollywood, CA from 1 – 4 p.m. on Friday, November 15 and Saturday, November 16. ... If you don't live in LA, but want to get a taste of the exhibition, CLICK HERE http://eyeforsound.com/eye-for-sound-app-tutorial/. Limited editions of some artwork available HERE http://shop.Eyeforsound.com/. Thank you all for the love & support. Peace - SerjSee More
System of a Down
Metallica
My Chemical Romance
Black Eyed Peas
AC/DC
Junior Senior
Lo Blondo (Denisse)
Nirvana
Maqueta
Radiohead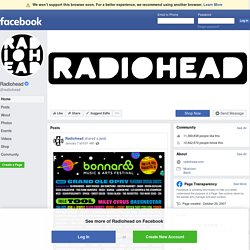 The Sounds of South Africa on BBC6music On Sunday 28th July between 4pm and 6pm I'll be presenting the Sounds of South Africa on BBC 6 Music. It's a programme all about South African music with a bit of politics thrown in. As Global Amba...ssador of the Children's Radio Foundation I've recently travelled round South Africa a bit and I've heard a load of fantastic music. I'll be playing some of my favourites in between some clips as produced by the Children's Radio Foundation.