Vestimenta
The place to view the 75th Hunger Games was right where we were. by Kaysa Minox As our collective eyes are riveted to our hologram screens, we join together as a nation to watch our much-loved Victors enter the arena once more. But the yearly intensity of the Hunger Games doesn't end there—nor do the festivities of a Quarter Quell. Naturally, the most elaborate viewing parties are going on right here in the Capitol. Buytennis
FuelBand – Life Is A Sport. Make It Count.
Guy Vernes | Maison des Arts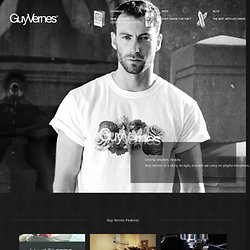 Lookbook Take a closer look at our collection Shop Shop online for the finest Guy Vernes Products
website awards se connecter à mon compte The collection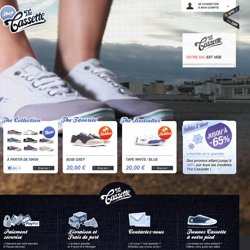 Home - Massimo Bonini Showroom
DIESEL X
Spyder
Our stylist creates nautical looks from classic to completely inspired. 1 Piece, 3 Ways >> Head for the high sea, beach or beyond in styles that look as cool as they feel. Get the Look >>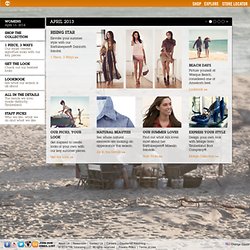 Timberland for Women | Go out and be you.™
A fashionable feminine brand that aims for modern girls. The brand puts out six collections a year and is represented in more than 200 selected stores throughout Europe. To highlight the feminine look, Second Female needed a new online identity with synergy between their collection, stores and online profile. The solution is a clean and stylish design with a great overview of the collection and a direct link to a webshop in the same design and a checkout function shared with Just Female.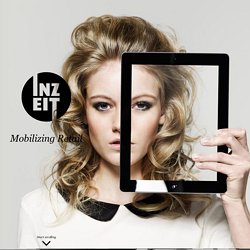 Athletic Sport Sunglasses & Technology | Nike Vision
Kipling - Bem Vindo!
New Arrivals maple in color ebonised 130.00 HENRIETTE IN COLOR EBONISED 245.00 LISSETT IN OXBLOOD 275.00 LISSETT IN COLOR EBONISED 275.00 LOMBARD IN COLOR NAVY 425.00 ELLA IN COLOR MULTI 185.00 SPRUTH IN COLOR BRONZE 140.00 swinton in color pop teal 120.00 MAJERS IN COLOR BURGUNDY 110.00 GRETEL IN COLOR EBONISED 195.00 WATERS IN COLOR DARK GREY 185.00 VIV IN COLOR MULTI 95.00 HENRIETTE IN COLOR MAGENTA 245.00 ISIDORE IN COLOR MULTI 445.00 TENNANT IN COLOR POP TEAL 495.00 CALLOWAY IN COLOR MULTI 170.00 KORTY IN NIGHT WATCH PRINT 120.00 DJANGO IN COLOR EBONISED 795.00 GOODMAN IN COLOR PROPAGANDA RED 110.00 JARRET IN COLOR EBONISED 450.00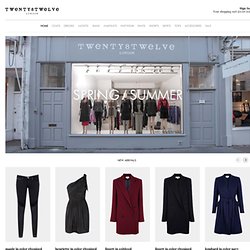 Twenty8Twelve
Welcome to adidasdesignstudios.com
Brooks Shoe Advisor - Find Your Shoe & Run Happy
Shoppub - A plataforma de e-commerce da Pub Design