SOFTWARE
Instantly switch to the window you want Just start typing the name of the app, window or browser tab you want. This is the fastest way to switch windows; no more hunting around for the right one. Easily arrange groups of windows to fill your screen Position windows instantly with keyboard shortcuts or rapidly draw windows into position using your mouse.
Optimal Layout — Keyboard control for moving, resizing and tilin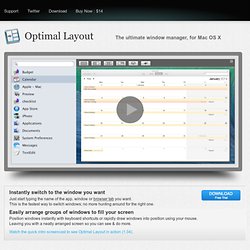 En unos días hará un año que adquirí la NetAtmo, una estación meteorológica para nuestro hogar, que te permite saber en todo momento, y en tiempo real, la temperatura interior y exterior (entre otros muchos datos) de nuestra casa. Durante este año se ha convertido en uno de los dispositivos imprescindibles en mi casa. He encontrado infinidad de usos prácticos, además de la mera virtud informativa. Como ya sabéis, la NetAtmo es una estación meteorológica que está conectada a internet y que va enviando todos los datos en tiempo real a su servidor y así podemos consultarlos en cualquier momento y desde cualquier parte del mundo.
AppsMac.com - Software para tu Mac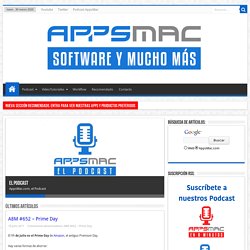 Four years ago I had the idea to build a blog network dedicated to reviewing and rounding up apps. We started with Mac apps and then quickly expanded to additional channels covering iOS, Android, Windows and Web apps. While the network has been successful in traffic and audience, reaching some 100m+ visitors over the four years, it's ultimately not fit within our broader company mission. So I'm here today to announce that unfortunately after four years of app guidance, we're closing AppStorm down. As many readers will know, AppStorm is a product of Envato. Our company is dedicated to helping people earn and learn online, and our main products are the Envato Marketplaces, Microlancer and Tuts+.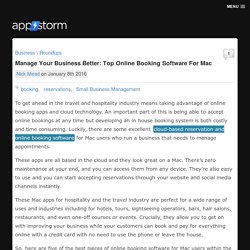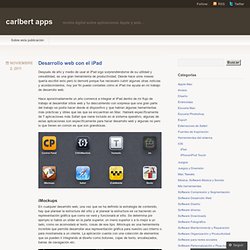 Esta es la primera vez que una nueva versión del sistema operativo de Microsoft llama mi atención. Aunque desde que empece a usar computadoras empece a usar Mac también he usado toda mi vida Windows desde la versión 3.1 y siempre ha sido una experiencia desagradable. Entiendo que a muchos usarios les guste la experiencia y se sientan comodos con el sistema operativo pero a mi sencillamente no me gusta y conozco Windows bastante bien, si no me considero un experto por lo menos se que tengo mayor conocimiento que los usuarios promedio ya que en muchas ocasiones usarios de Windows me han pedido ayuda para la solución de problemas y generalmente logro solucionarlos y/o enseñarles a usar el sistema operativo. En este contexto cuando empecé a escuchar sobre Windows 8 tuve esa reacción que tengo por reflejo girando los ojos en blanco hacia arriba cuando escucho de las nuevas "promesas" de Microsoft.
carlbert's Apps