Face
Tags: acne-prone skin, blemishes, blackheads, sensitive, oily "I love this cleanser! I have oily, sensitive, blemish prone skin and this truly removes all impurities without stripping my skin. I first was using the Checks and Balances cleanser because I was convinced that I was causing more harm to my skin using more "acne targeted" products, but I never felt like it really cleaned my skin, though it smells great! Ever since I've swtiched to Zero Oil, my skin has improved dramatically without that dramatic approach which usually leaves me red and irritated.
Zero Oil™ > Cleansers > Skincare > Origins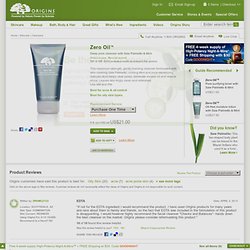 urth SKIN SOLUTIONS FOR MEN: Cleanse: Face Wash - An Asian inspired botanical based, skincare company, that makes, men's grooming products. Glycerin, Aloe Vera, White Oak Bark Extract, Vitamin C Ester, Chamomile Extract, Rosemary Oil, Peppermint Oil, Spea Benefits Use Key Ingredients Winner of Men's Health 2007 Grooming Awards. This gentle non-foaming cleanser removes dirt, oil & debris to reveal a fresh, healthy looking complexion. Herbal extracts, vitamins & essential oils restore skin tone & moisture.
• Gently removes impurities and debris • Dissolves buildup and clears pores • Revatilizes, smoothes and softens This advanced liquid cleanser leaves your face super clean, soft and smooth without drying out skin like bar soap does. This face wash for men gently removes impurities, oily residues and buildup for a renewed complexion with glycolic acid, salicylic acid, aloe, allantoin and glycerin.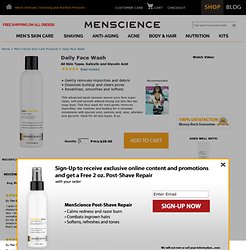 Best Men's Face Wash. Daily Face Wash for Men with Glycolic Acid. | MenScience
Face wash and toner for clear skin - Pure Clean Daily Facial Cleanser - Jack Black
Men's Face Care | View Men's Face Care Products
The Best Face Wash for Men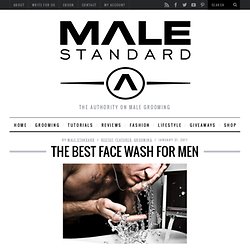 As a guy, does it really make a difference what face wash you use? Have you ever just grabbed a bar of soap and used it on your face? After all, cleansers are all the same right? Wrong. A man's skin is naturally unique. It's more coarse and thicker than a woman's.
LUSH -- Facial Care Products: Ocean Salt Cleanser (normal to oily skin)
I usually use about every other time I wash my face. It basically erased my blackheads on my chin and nose after about 5 uses. I tried all the apricot shrubs and what have you from drug stores, and even the harsher products never gave me the results that Ocean Salt has. It makes my skin feel so good. I have dull, uneven skin, and this helped both of those issues out tremendously.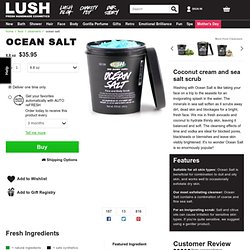 Açaí Damage-Minimizing Cleanser | Kiehl's Since 1851 | Kiehl's Since 1851