Proyectos Por hacer
DIY Guy Cranks Out Guitar Amps Made of Ouija Boards, Beer Cans | Underwire. A mid-20s pop-culture fan, Brenne tends to make amps that reflect his interests and personality.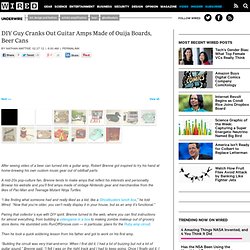 Browse his website and you'll find amps made of vintage Nintendo gear and merchandise from the likes of Pac-Man and Teenage Mutant Ninja Turtles. "I like finding what someone had and really liked as a kid, like a Ghostbusters lunch box," he told Wired. How to Build Your Own Speakers: Step-by-Step DIY Tech. The electronic components inside a loudspeaker are actually quite simple.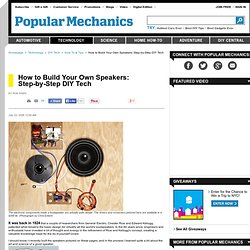 The drivers and crossovers pictured here are available in a $369 kit. (Photograph by Chris Eckert) It was back in 1924 that a couple of researchers from General Electric, Chester Rice and Edward Kellogg, patented what remains the basic design for virtually all the world's loudspeakers. In the 84 years since, engineers and enthusiasts have invested a lot of thought and energy in the refinement of Rice and Kellogg's concept, creating a valuable knowledge base for the do-it-yourself crowd. How to Make Beer - Making Beer at Home. Making a mash is not always necessary--you can brew a perfectly good lager or ale with prepackaged malt extract.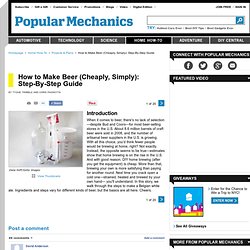 But for this recipe, we're going all out, with an all-grain beer-- we extract the sugars from the grain ourselves. The recipe we're following is for a beer in the Belgian white or "wit" sytle. It's called "Wit Ginger, Not Mary Ann," and was published by the esteemed beer-brewing magazine, Zymurgy. How to Brew Beer - Home Brewing Getting Started. Serious about making large batches of beer?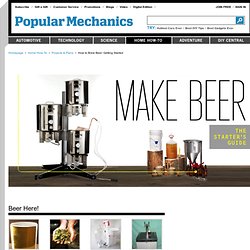 Splurge for a propane-powered rig with a three-tiered brew stand. This setup, by Indiana-based Blichmann Engineering, costs about $2000 and features a trio of 20- to 30-gallon pots and gas burners that put out 216,000 Btu per hour. (The high heat quickly boils large amounts of liquid, shaving hours off the brewing process.) More casual or budget brewers can make do with one big pot, heated on a common kitchen stove.
---