WikiLeaks And War Mongers
Nieman Watchdog > Commentary > The real story behind Time's Afghan woman cover: American complicity. COMMENTARY | August 11, 2010 The repressive and misogynistic forces the picture depicts are the very ones that were bolstered by U.S. policy in the early 1980s, and again now.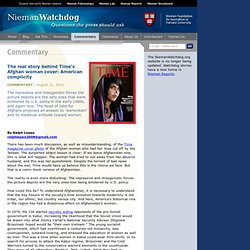 The head of Jobs for Afghans proposes an answer to 'warlordism' and its medieval attitude toward women. Wikileaks. Cyberwar Against Wikileaks? Good Luck With That | Threat Level. View WikiLeaks insurance seeders in a larger map Should the U.S. government declare a cyberwar against WikiLeaks?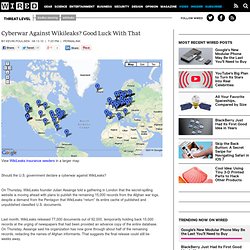 On Thursday, WikiLeaks founder Julian Assange told a gathering in London that the secret-spilling website is moving ahead with plans to publish the remaining 15,000 records from the Afghan war logs, despite a demand from the Pentagon that WikiLeaks "return" its entire cache of published and unpublished classified U.S. documents. Last month, WikiLeaks released 77,000 documents out of 92,000, temporarily holding back 15,000 records at the urging of newspapers that had been provided an advance copy of the entire database. Iraq War, Blackwater, and WikiLeaks. Wikileaks. Wikileaks Soldier Who Found Rocket Launcher at Scene Says No Attack Was Imminent. The soldier in a now-famous Wikileaks video who found a rocket launcher at the scene of a controversial 2007 Apache helicopter attack , in Baghdad, said in a radio interview this week that he did not believe an ambush was imminent.
The video shows 12 men, including two Reuters newsmen, standing on a street corner before being fired upon with the Apache's 30mm cannon, resulting in what appears to be an unprovoked massacre. The video caused an international outcry after it was leaked to the media by the government watchdog Wikileaks. WikiLeaks preparing to release 15,000 more Afghanistan documents. WikiLeaks founder Julian Assange says the site is about halfway through preparing the additional documents.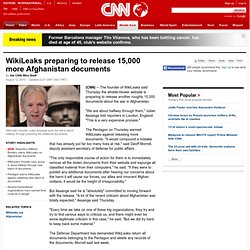 NEW: Reporters Without Borders slams WikiLeaks on Afghanistan documentsWikiLeaks' founder says group is about halfway through new batch of documentsPentagon warns WikiLeaks against releasing new batch of documentsSeveral humanitarian organizations have warned lives could be in danger (CNN) -- The founder of WikiLeaks said Thursday the whistle-blower website is preparing to release another roughly 15,000 documents about the war in Afghanistan. "We are about halfway through them," Julian Assange told reporters in London, England. Interview: WikiLeaks, The Future Of Journalism, And 'The Internet As A New Government' - Radio Free Europe / Radio Liberty © 2010. Jeff Jarvis was the creator and founding editor of the pop-culture magazine "Entertainment Weekly" and is now a professor at the City University of New York's Graduate School of Journalism, where he directs its New Media program.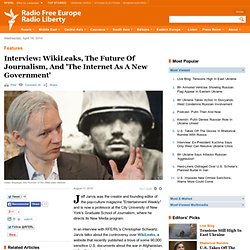 In an interview with RFE/RL's Christopher Schwartz, Jarvis talks about the controversy over WikiLeaks, a website that recently published a trove of some 90,000 sensitive U.S. documents about the war in Afghanistan. U.S. officials and others were concerned that the leaks constitute a national security threat. Jarvis talks about WikiLeaks' significance for journalism and the future of the Internet. Maximillian C. Forte: A War on Wikileaks? By MAXIMILIAN C.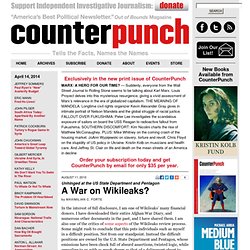 FORTE In the interest of full disclosure, I am one of Wikileaks' many financial donors. I have downloaded their entire Afghan War Diary, and numerous other documents in the past, and I have shared them. Checkpoint Washington - Pentagon: Undisclosed Wikileaks documents 'potentially more explosive' Updated 10:06 p.m.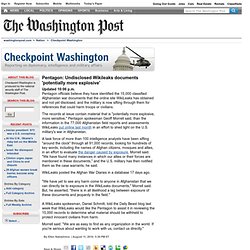 Pentagon officials believe they have identified the 15,000 classified Afghanistan war documents that the online site WikiLeaks has obtained and not yet disclosed, and the military is now sifting through them for references that could harm troops or civilians. The records at issue contain material that is "potentially more explosive, more sensitive," Pentagon spokesman Geoff Morrell said, than the information in the 77,000 Afghanistan field reports and assessments WikiLeaks put online last month in an effort to shed light on the U.S. military's war in Afghanistan.
Wikileaks report's misplaced focus | Pakistan Daily. Why WikiLeaks Won't Stop the War. The War Logs, released by WikiLeaks, may contribute to the unfortunate and prevailing doctrine that wars are wrong only if they aren't successful.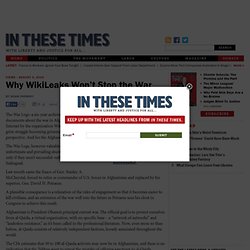 The War Logs–a six-year archive of classified military documents about the war in Afghanistan, released on the Internet by the organization WikiLeaks–documents a grim struggle becoming grimmer, from the U.S. perspective. And for the Afghans, a mounting horror. The War Logs, however valuable, may contribute to the unfortunate and prevailing doctrine that wars are wrong only if they aren't successful–rather like the Nazis felt after Stalingrad. Last month came the fiasco of Gen. Pentagon to Troops: Taliban Can Read WikiLeaks, You Can't. Any citizen, any foreign spy, any member of the Taliban, and any terrorist can go to the WikiLeaks website, and download detailed information about how the U.S. military waged war in Afghanistan from 2004 to 2009.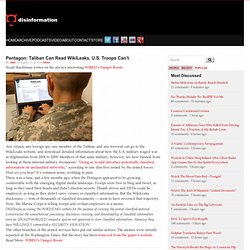 Members of that same military, however, are now banned from looking at those internal military documents. "Doing so would introduce potentially classified information on unclassified networks," according to one directive issued by the armed forces. There was a time, just a few months ago, when the Pentagon appeared to be growing comfortable with the emerging digital media landscape. Troops were free to blog and tweet, as long as they used their heads and didn't disclose secrets. Australia not asked to move on Wikileaks boss. Online political correspondent Emma Rodgers Updated Thu 12 Aug 2010, 2:22pm AEST Foreign Affairs Minister Stephen Smith says he has not been asked by the United States to put Wikileaks founder Julian Assange under criminal investigation.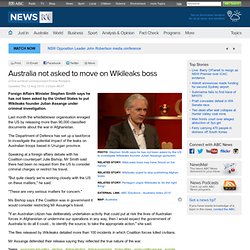 Last month the whistleblower organisation enraged the US by releasing more than 90,000 classified documents about the war in Afghanistan. The Department of Defence has set up a taskforce to investigate the potential impact of the leaks on Australian troops based in Uruzgan province. Speaking at a foreign affairs debate with his Coalition counterpart Julie Bishop, Mr Smith said there had been no request from the US to consider criminal charges or restrict his travel.
US soldier in WikiLeaks massacre video: "I relive this every day" By Bill Van Auken 28 April 2010 Iraq war veteran Ethan McCord, who is seen running with an Iraqi child in his arms in the video posted by WikiLeaks of a July 2007 massacre of civilians in Baghdad, talked to the World Socialist Web Site about the impact of this and similar experiences in Iraq. The video, which records the shocking deaths of at least 12 individuals, including two Iraqi journalists employed by Reuters, has been viewed more than 6 million times on the Internet. Ethan McCord McCord, together with another former member of the company, Josh Stieber, have addressed an open "Letter of Reconciliation" to the Iraqi people taking responsibility for their role in this incident and other acts of violence. Both soldiers deployed to Iraq in 2007 and left the Army last year. Foreign Policy: How WikiLeaks Can Be Used For Good. Army analyst linked to WikiLeaks hailed as antiwar hero.
For antiwar campaigners from Seattle to Iceland, a new name has become a byword for anti-establishment heroism: Army Pfc. Bradley E. Manning. Manning, a 22-year-old intelligence analyst, is suspected of leaking thousands of classified documents about the Afghanistan war to the Web site WikiLeaks. The breach has elicited a furious reaction from national security officials, who say it has compromised the safety of U.S. U.S. Leading The Terror In Afghanistan : Political Theatrics.
---