Tuesday
US gives 'secret guarantee' to Israel
US gives 'secret guarantee' to Israel US President Barack Obama The United States has secretly given a "written guarantee" to Israel that obliges Washington to sell Israel nuclear fission materials, Israeli sources say. The materials will be used to "produce electricity," Israeli Army radio, which is an official Israeli news source, reported. Washington has also vowed to "publicly announce" that Israel is a responsible entity and can "contain its capabilities."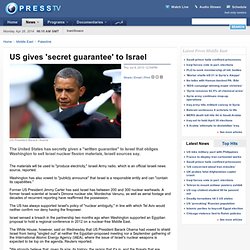 US given access to Europeans' bank data under deal approved by EU
Ireland seeks to block Israel access to data on EU citizens
"I am for freedom of religion, and against all maneuvers to bring about a legal ascendancy of one sect over another." - Thomas Jefferson (NOTE: Conservative Christian, these folks are more dangerous the those who planes on 9/11, because they have infiltrated our Congress, trying to make laws that follow the bible, taking away a woman's right to choose, give Christianity special rights and recognition an many more very scary things that will effect each and everyone of…our daily lives, most far reaching is how these people believe MORE taxes from hard working Americans should be used in religious run and religious private schools and support the destruction of public schools where that money will be stolen from. They are very pro war and would like to just nuke the whole Middle East, because a dead Muslim is a good Muslim.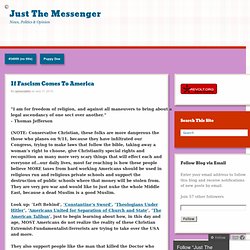 If Fascism Comes To America « Coreys Views
June Jobs Numbers And Financial Regulation: What's Next?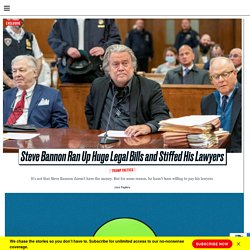 She's the Spice Girl who made it really big—chart-topping success, reinvention as an internationally lauded fashion designer, marriage to a super-hot, brilliant footballer, beautiful kids, celebrity friends, glamor in spades, and smiling only by a... She's the Spice Girl who made it really big—chart-topping success, reinvention as an internationally lauded fashion designer, marriage to a super-hot, brilliant footballer, beautiful...
It's really a monumental job that we have to keep all these nations under some kind of semblance of control and compliance; but, then again, someone has to do it and we are the best qualified for the job. That's why we have established the set rules that we expect the rest of the world to follow. But wait, is that not a contradiction? Isn't that a double standard, defined as "when something is deemed acceptable for use by one group of people, but is considered unacceptable for use by any other group?"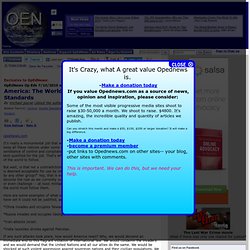 America: The World's Master of Double Standards
bp Republicans | BP Republicans
This industry, which includes multinational and independent oil and gas producers and refiners, natural gas pipeline companies, gasoline service stations and fuel oil dealers, has long enjoyed a history of strong influence in Washington. Individuals and political action committees affiliated with oil and gas companies have donated $238.7 million to candidates and parties since the 1990 election cycle, 75 percent of which has gone to Republicans. Though former oilmen George W.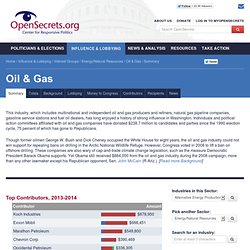 The Grass Roots Movement to STOP THE BURNING In The Gulf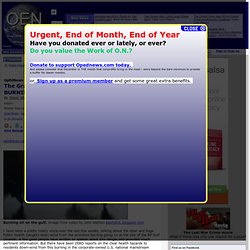 Burning oil on the gulf. Image from video by John Wathen bpoilslick.blogspot.com I have been a pretty lonely voice over the last few weeks, talking about the clear and huge Public Health Dangers down-wind from the primitive burning going on at the site of the BP Gulf Disaster. A few good people have written or spoken about this danger,and provided much pertinent information. But there have been ZERO reports on the clear health hazards to residents down-wind from this burning in the corporate-owned U.S. national mainstream media.
When a corporation such as BP experiences the humiliation of wearing the "responsible" cloud over their heads, what does it teach them? To ask this question is to ask the same question with regard to children and wrong deeds, to husbands and wives who are unfaithful in their marriages, to the recently unemployed who had good jobs and threw them away, and so on. It is always a positive benefit of tragedy that individuals learn from their mistakes and make better choices in the future. What about British Petroleum, however?
Stop Big Oil Bailouts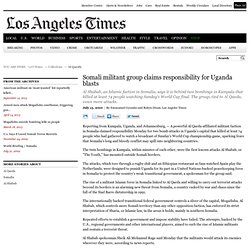 Reporting from Kampala, Uganda, and Johannesburg, — A powerful Al Qaeda-affiliated militant faction in Somalia claimed responsibility Monday for two bomb attacks in Uganda's capital that killed at least 74 people who had gathered to watch a broadcast of Sunday's World Cup championship game, sparking fears that Somalia's long and bloody conflict may spill into neighboring countries. The twin bombings in Kampala, within minutes of each other, were the first known attacks Al Shabab, or "The Youth," has mounted outside Somali borders. The attacks, which tore through a rugby club and an Ethiopian restaurant as fans watched Spain play the Netherlands, were designed to punish Uganda for its part in a United Nations-backed peacekeeping force in Somalia to protect the country's weak transitional government, a spokesman for the group said.
Uganda bombings: Islamic militant group Al Shabab claims responsibility for bombings - latimes.com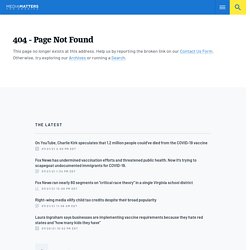 NYP op-ed disappears Bush's politicization of the Justice Department
New York Post : "Behind US v. Arizona: pure politics" -- unlike "past administrations" Bush administration adviser Kobach claimed that Obama DOJ's decision to sue AZ over immigration law is "pure politics" and accused Obama administration of politicizing the Justice Department. In a July 12 editorial, Kobach -- former counsel and chief adviser to Bush Attorney General John Ashcroft and one of the drafters of the controversial Arizona immigration law -- accused the Obama administration of politicizing the Department of Justice, using as examples its decision to challenge the constitutionality of Arizona's immigration law and its decision to drop voter intimidation charges against some members of the New Black Panther Party. From the New York Post : The Obama administration's lawsuit against the state of Arizona offers a revealing window into the Holder Justice Department.
'It's Fun to Shoot Some People'  : ICH - Information Clearing House
[Note for TomDispatch Readers: We've got a special offer for you today. Below, you'll get a taste of Astra Taylor's new book about the Internet as a system for inequality, The People's Platform: Taking Back Power and Culture in the Digital Age. (Musician David Byrne, no less, praises her "inspiring insights" and calls her book "beautifully written and highly recommended."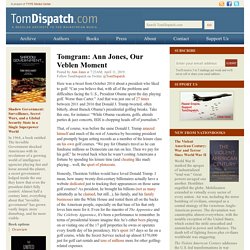 TomDispatch
July 13, 2010 9:09 am ET — 43 Comments Fox & Friends host Steve Doocy said that the Justice Department's lawsuit against Arizona's controversial immigration law is "just the latest example of what some say is a federal government that is overstepping its authority and getting too big." However, Doocy omits that the Bush administration sued Illinois seeking to have an immigration statute ruled unconstitutional, and legal experts agree Arizona law is "unconstitutional." Doocy: "Some say" the "federal government is overstepping its authority" in challenging AZ immigration law . From the July 13 edition of Fox News' Fox & Friends : DOOCY: Despite strong opposition from lawmakers and voters across the country, the Department of Justice refuses to back down from its lawsuit against Arizona.
Fox amnesia: Doocy ignores Bush-era lawsuit to accuse feds of "overstepping its authority" in AZ case
We keep learning more about the catastrophe in front of us, but it isn't helping us solve the problem. It's starting to feel like the Intergovernmental Panel on Climate Change could keep issuing its reports from here to eternity. The Fifth Assessment Report, released just in time to avoid April Fool's Day, continues a steady trend: our knowledge is increasing, just about everything that matters is getting worse, and all we can realistically hope to do is soften the edges of a slow-moving catastrophe.
Ann Coulter Provokes Conservative Afghan War Debate
Welcome to AnnCoulter.com
Video of hilarious student "sit-in" at Dartmouth - Students Occupy Parkhurst (Watch all four parts!) Comments summarize it: Who the hell is Milli Vanilli texting the entire time?
Click here for appearances & related protests of war criminals in April 2014! Read the LATEST NEWS here! War Crimes and Crimes Against Humanity War Criminals Watch was founded to demand prosecutions of the Bush administration's high officials and subsequent administrations guilty of "high crimes and misdemeanors." Key officials must be held accountable and prosecuted for war crimes and crimes against humanity. Only an energized and politically active public can make this happen.
Welcome to WarCriminalsWatch.org
Our reign of terror, by the Israeli army - Middle East, World
The birds are singing as he describes in detail some of what he did and saw others do as an enlisted soldier in Hebron. And they are certainly criminal: the incidents in which Palestinian vehicles are stopped for no good reason, the windows smashed and the occupants beaten up for talking back – for saying, for example, they are on the way to hospital; the theft of tobacco from a Palestinian shopkeeper who is then beaten "to a pulp" when he complains; the throwing of stun grenades through the windows of mosques as people prayed. And worse.
Israel: No ship allowed to reach Gaza
Op-Ed Columnist - Waiting for Gandhi on the West Bank
CounterPunch: Tells the Facts, Names the Names
Libya's Qaddafi latest to challenge Israel's Gaza blockade
The Real News Network
BP Cuts Payments to 40,000, La. Official Says
Hundreds Of Fishermen Missing Checks From BP
Hell Has Come to South Louisiana | Dahr Jamail - Independent Reporting from Iraq and the Middle East
Woman injured after box left in front of her northwest Houston home explodes | abc13
Could a "Great Negotiation" End the War in Afghanistan? | CommonDreams.org
Cops Show Marines How to Take on the Taliban | NBC Los Angeles
PEACE PROCESS GOING NOWHERE, ISRAELI ELITE DOING FINE – 18 families control 60% of corporate equity says Israeli economist - Reality Asserts Itself
Arizona warned of 2nd lawsuit
Immigration reform: President's speech helps Birther 'Impeach Obama' goal (Videos & transcript)
Outside Groups Aiding GOP Cause This Cycle
Watch out Sarah Palin, Newt Gingrich is 'serious' about running for president in 2012