Tuesday
US gives 'secret guarantee' to Israel. US gives 'secret guarantee' to Israel US President Barack Obama The United States has secretly given a "written guarantee" to Israel that obliges Washington to sell Israel nuclear fission materials, Israeli sources say.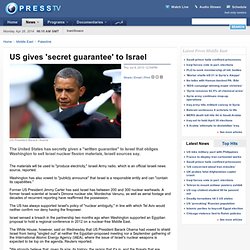 The materials will be used to "produce electricity," Israeli Army radio, which is an official Israeli news source, reported. Washington has also vowed to "publicly announce" that Israel is a responsible entity and can "contain its capabilities. " US given access to Europeans' bank data under deal approved by EU. Ireland seeks to block Israel access to data on EU citizens. If Fascism Comes To America « Coreys Views. "I am for freedom of religion, and against all maneuvers to bring about a legal ascendancy of one sect over another." - Thomas Jefferson (NOTE: Conservative Christian, these folks are more dangerous the those who planes on 9/11, because they have infiltrated our Congress, trying to make laws that follow the bible, taking away a woman's right to choose, give Christianity special rights and recognition an many more very scary things that will effect each and everyone of…our daily lives, most far reaching is how these people believe MORE taxes from hard working Americans should be used in religious run and religious private schools and support the destruction of public schools where that money will be stolen from.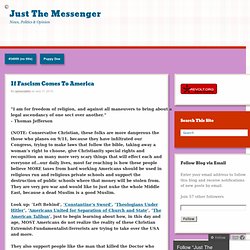 They are very pro war and would like to just nuke the whole Middle East, because a dead Muslim is a good Muslim. June Jobs Numbers And Financial Regulation: What's Next? America: The World's Master of Double Standards. It's really a monumental job that we have to keep all these nations under some kind of semblance of control and compliance; but, then again, someone has to do it and we are the best qualified for the job.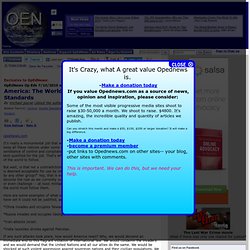 That's why we have established the set rules that we expect the rest of the world to follow. But wait, is that not a contradiction? Isn't that a double standard, defined as "when something is deemed acceptable for use by one group of people, but is considered unacceptable for use by any other group? " Bp Republicans | BP Republicans. This industry, which includes multinational and independent oil and gas producers and refiners, natural gas pipeline companies, gasoline service stations and fuel oil dealers, has long enjoyed a history of strong influence in Washington.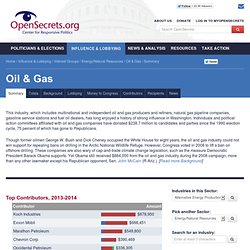 Individuals and political action committees affiliated with oil and gas companies have donated $238.7 million to candidates and parties since the 1990 election cycle, 75 percent of which has gone to Republicans. Though former oilmen George W. The Grass Roots Movement to STOP THE BURNING In The Gulf. Burning oil on the gulf.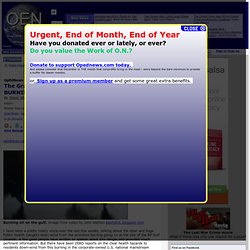 Image from video by John Wathen bpoilslick.blogspot.com I have been a pretty lonely voice over the last few weeks, talking about the clear and huge Public Health Dangers down-wind from the primitive burning going on at the site of the BP Gulf Disaster. A few good people have written or spoken about this danger,and provided much pertinent information. But there have been ZERO reports on the clear health hazards to residents down-wind from this burning in the corporate-owned U.S. national mainstream media.
Stop Big Oil Bailouts. Uganda bombings: Islamic militant group Al Shabab claims responsibility for bombings - latimes.com. Reporting from Kampala, Uganda, and Johannesburg, — A powerful Al Qaeda-affiliated militant faction in Somalia claimed responsibility Monday for two bomb attacks in Uganda's capital that killed at least 74 people who had gathered to watch a broadcast of Sunday's World Cup championship game, sparking fears that Somalia's long and bloody conflict may spill into neighboring countries.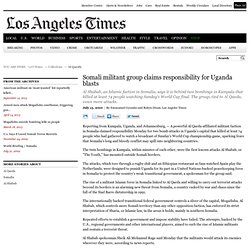 The twin bombings in Kampala, within minutes of each other, were the first known attacks Al Shabab, or "The Youth," has mounted outside Somali borders. The attacks, which tore through a rugby club and an Ethiopian restaurant as fans watched Spain play the Netherlands, were designed to punish Uganda for its part in a United Nations-backed peacekeeping force in Somalia to protect the country's weak transitional government, a spokesman for the group said. NYP op-ed disappears Bush's politicization of the Justice Department. New York Post : "Behind US v.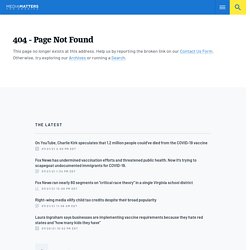 Arizona: pure politics" -- unlike "past administrations" Bush administration adviser Kobach claimed that Obama DOJ's decision to sue AZ over immigration law is "pure politics" and accused Obama administration of politicizing the Justice Department. In a July 12 editorial, Kobach -- former counsel and chief adviser to Bush Attorney General John Ashcroft and one of the drafters of the controversial Arizona immigration law -- accused the Obama administration of politicizing the Department of Justice, using as examples its decision to challenge the constitutionality of Arizona's immigration law and its decision to drop voter intimidation charges against some members of the New Black Panther Party. From the New York Post : The Obama administration's lawsuit against the state of Arizona offers a revealing window into the Holder Justice Department. 'It's Fun to Shoot Some People'  : ICH - Information Clearing House.
TomDispatch. Fox amnesia: Doocy ignores Bush-era lawsuit to accuse feds of "overstepping its authority" in AZ case. July 13, 2010 9:09 am ET — 43 Comments Fox & Friends host Steve Doocy said that the Justice Department's lawsuit against Arizona's controversial immigration law is "just the latest example of what some say is a federal government that is overstepping its authority and getting too big.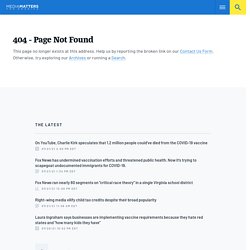 " However, Doocy omits that the Bush administration sued Illinois seeking to have an immigration statute ruled unconstitutional, and legal experts agree Arizona law is "unconstitutional. " Doocy: "Some say" the "federal government is overstepping its authority" in challenging AZ immigration law . From the July 13 edition of Fox News' Fox & Friends : DOOCY: Despite strong opposition from lawmakers and voters across the country, the Department of Justice refuses to back down from its lawsuit against Arizona. Ann Coulter Provokes Conservative Afghan War Debate. We keep learning more about the catastrophe in front of us, but it isn't helping us solve the problem.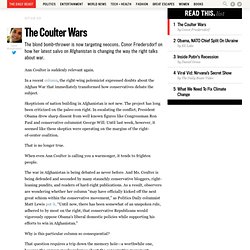 It's starting to feel like the Intergovernmental Panel on Climate Change could keep issuing its reports from here to eternity. The Fifth Assessment Report, released just in time to avoid April Fool's Day, continues a steady trend: our knowledge is increasing, just about everything that matters is getting worse, and all we can realistically hope to do is soften the edges of a slow-moving catastrophe. Welcome to AnnCoulter.com. Welcome to WarCriminalsWatch.org. Our reign of terror, by the Israeli army - Middle East, World. The birds are singing as he describes in detail some of what he did and saw others do as an enlisted soldier in Hebron.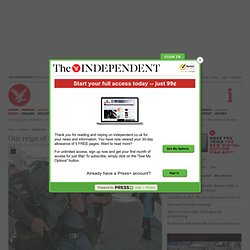 And they are certainly criminal: the incidents in which Palestinian vehicles are stopped for no good reason, the windows smashed and the occupants beaten up for talking back – for saying, for example, they are on the way to hospital; the theft of tobacco from a Palestinian shopkeeper who is then beaten "to a pulp" when he complains; the throwing of stun grenades through the windows of mosques as people prayed. And worse. Israel: No ship allowed to reach Gaza. Israel: No ship allowed to reach Gaza Israeli Foreign Minister Avigdor Lieberman Israel insists it will not allow any seaborne convoy to reach the Gaza Strip, which it has kept under an all-out siege for more than three years.
"I say very clearly, no ship will arrive in Gaza. We will not permit our sovereignty to be harmed," Israeli Foreign Minister Avigdor Lieberman said on Army Radio on Sunday, Reuters reported. The comments came following the Israeli attack on the Freedom Flotilla aid convoy, which resulted in the death of nine Turkish activists, and as the Libyan Amalthea has set sail to break the Gaza siege. Op-Ed Columnist - Waiting for Gandhi on the West Bank. CounterPunch: Tells the Facts, Names the Names. Libya's Qaddafi latest to challenge Israel's Gaza blockade. Six weeks after Israeli commandos killed nine pro-Palestinian activists to prevent a Turkish aid ship from reaching the Gaza Strip, tensions are on the rise as a Libyan-sponsored vessel sets out to challenge Israel's naval blockade of the Hamas-controlled territory.
Skip to next paragraph Subscribe Today to the Monitor Click Here for your FREE 30 DAYS ofThe Christian Science MonitorWeekly Digital Edition Backed by a charity headed by the son of Libyan ruler Muammar Qaddafi, the ship Amalthea is carrying a cargo of 2,000 tons of food. The Real News Network. BP Cuts Payments to 40,000, La. Official Says. Byron Encalade, the President of the Louisiana Oystermen Association, during a meeting with top U.S. Department of Labor officials to discuss the ongoing economic effects of the BP oil spill on July 7, 2010 in Phoenix, Louisiana. The Labor officials are meeting with local fishermen, community-based organizations and state and local elected representatives from Louisiana to Florida as they continue the effort to help people that have been affected by the millions of gallons of oil that have flowed from the Deepwater Horizon spill causing economic hardship throughout the gulf region.
(Photo by Joe Raedle/Getty Images) Getty Images. Hundreds Of Fishermen Missing Checks From BP. GRAND ISLE, La. —Hundreds of fishermen from Lake Charles to Moss Point, Miss., were supposed to get checks from BP on Wednesday but didn't. Wednesday night, their lawyer wanted answers. Jeffrey Briet represents more than 500 fishermen, and he said the payment system he set up with BP required his clients to be paid every 30 days. Now that process has suddenly changed without warning, Briet said. More Oil Spill News:I-Team: Oil Cleanup Crews Rest More Than WorkAppeals Court To Hear Drilling Moratorium Case.
Hell Has Come to South Louisiana | Dahr Jamail - Independent Reporting from Iraq and the Middle East. Story by Dahr Jamail Photography by Erika Blumenfeld Photo by Erika Blumenfeld © 2010 Clint Guidry is a shrimper from Lafitte, Louisiana. As we sit together, he shows me a picture of his house with 18 inches of water in it as a result of Hurricane Ike in 2008. In his deep voice, he looks me in the eye and says, "My fear is repeating this situation, but with this water with oil on top of it." Guidry represents all the shrimpers in Louisiana, given that he is the Shrimp Harvester Representative on the Louisiana Shrimp Task Force that was created by the state's governor.
Woman injured after box left in front of her northwest Houston home explodes | abc13. Could a "Great Negotiation" End the War in Afghanistan? | CommonDreams.org. Cops Show Marines How to Take on the Taliban | NBC Los Angeles. PEACE PROCESS GOING NOWHERE, ISRAELI ELITE DOING FINE – 18 families control 60% of corporate equity says Israeli economist - Reality Asserts Itself. Arizona warned of 2nd lawsuit. Immigration reform: President's speech helps Birther 'Impeach Obama' goal (Videos & transcript)
Outside Groups Aiding GOP Cause This Cycle. Watch out Sarah Palin, Newt Gingrich is 'serious' about running for president in 2012.
---