Middle East Plus
Church to burn copies of Koran to mark 9/11
The Dove World Outreach Center of Gainesville asked other religious to stand "against the evil of Islam" / AP Source: AP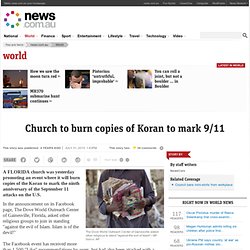 Media conservatives "favor religious freedom," but ...
August 05, 2010 8:55 am ET — 146 Comments
State of the States
TomDispatch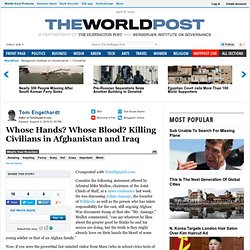 Crossposted with TomDispatch.com. Consider the following statement offered by Admiral Mike Mullen, chairman of the Joint Chiefs of Staff, at a news conference last week. He was discussing Julian Assange, the founder of Wikileaks as well as the person who has taken responsibility for the vast, still ongoing Afghan War document dump at that site.
Tom Engelhardt: Whose Hands? Whose Blood? Killing Civilians in Afghanistan and Iraq
The Lunatic's Manual   : ICH - Information Clearing House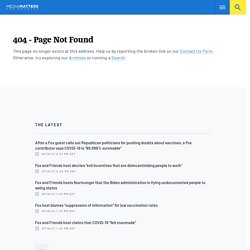 August 05, 2010 11:21 am ET — 77 Comments Right-wing media have repeatedly compared First Lady Michelle Obama to Marie Antoinette, the eighteenth century queen who was executed during the French Revolution. "Pampered" Michelle Obama is a "modern-day Marie Antoinette"
Right-wing media absurdly compare Michelle Obama to Marie Antoinette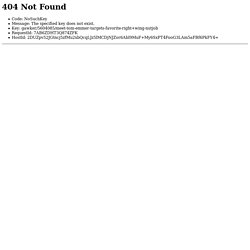 @Senor_Spielbergo: The Republican Party of even Barry Goldwater, who opposed civil rights laws, has been taken over by a bunch of anti-government lunatics!
Meet Tom Emmer, Target's Favorite Right-Wing Nutjob
Barry Eisler: Militarization and the Authoritarian Right
Yes, former Bush administration speechwriter and current Washington Post columnist Marc Thiessen's demand that "WikiLeaks Must Be Stopped" is, as his colleague Eva Rodriguez notes, "more than a little whacky."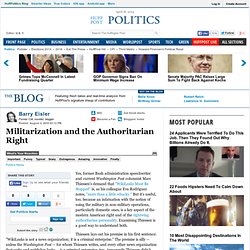 PostPartisan - A final warning to WikiLeaks?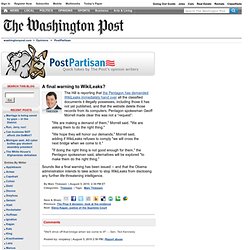 The Hill is reporting that the Pentagon has demanded WikiLeaks immediately hand over all the classified documents it illegally possesses, including those it has not yet published, and that the website delete those records from its computers. Pentagon spokesman Geoff Morrell made clear this was not a "request":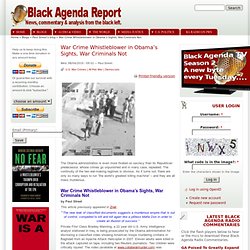 War Crime Whistleblower in Obama's Sights, War Criminals Not
Printer-friendly version The Obama administration is even more fixated on secrecy than its Republican predecessor, whose crimes go unpunished and in many case, repeated.
How many people had even heard of WikiLeaks a week ago? Or Julian Assange? And yet, seven days after the biggest intelligence leak of all time – the publication of over 75,000 files amounting to an entire history of the Afghanistan war – he is everywhere; in every newspaper, on every news broadcast, in what appears to be every country in the world. It's been an extraordinary week for WikiLeaks, which has seen the entrance on to the world stage of a remarkable new character: Assange, a man who, even friends and supporters admit, looks "a bit like a Bond villain". Could it be the week that changed the war in Afghanistan?
Julian Assange, monk of the online age who thrives on intellectual battle | Media | The Observer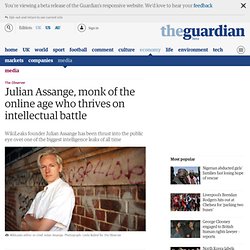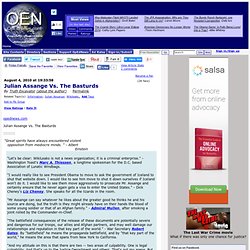 Diary: Julian Assange Vs. The Basturds
Julian Assange Vs.
WikiLeaks Puts Afghanistan Back on Media Agenda
by Mark Jurkowitz, Associate Director, Project for Excellence in Journalism
WikiLeaks' disclosure of the 91,000 U.S. government documents that it labels the "Afghan War Diary" raises a number of vital issues. Most of the discussion so far has focused on the significance of the documents themselves.
Wikileaks: The National-Security State strikes back « Later On
Afghanistan: The war logs | World news
Iran poised to fill vacuum after U.S. withdrawal
By Richard Engel, NBC chief foreign correspondent
It's a bit sad that conservatives desperately want to believe that the public is motivated by ideological conservatism and votes accordingly. This is how the election of Barack Obama can be explained as a rejection of "big-government 'do something' conservatism of the Bush years," and the enduring unpopularity of Republicans is explained by saying "it hasn't been right-wing enough."
TAPPED Archive | The American Prospect
Wyoming most conservative state, D.C. most liberal (though it's not a state) | Top of the Ticket | Los Angeles Times
Get out your U.S. map and your favorite red and blue crayons.
Cheney still hospitalized « Under the Mountain Bunker & Coffee Shop
Cheney hoping to leave hospital this week - The Hill's Blog Briefing Room
'Ethics' violations: What about Bush & Cheney?
Halliburton balks at telling U.S. early of major deals