Outils
SeeUrank Logiciel référencement : analyse et suivi du référencement
Lecteur MP3 - Lecteurs - NORMAL - Générateur
Comptes Google
RetweetFollow - Search and Follow tweeters interested in specifi
Mail Feedback Form | FREE PSD FILES - Free PSD resources like te
Le Web2.0 pour la formation
Les outils 2.0 pour les formateurs
Web 2.0 Design Generators For Developers | 84 Bytes
50 Outils en ligne pour Gestion de Projets
Tous les jours, les spécialistes du seo sont amenés à résoudre des problèmes de référencement des sites web qu'ils gèrent. Pour les aider dans leurs taches, certains outils existent et permettent de faire des analyses fondées et de prendre des décisions pertinentes quant aux actions seo qu'il faut mettre en place pour améliorer le positionnement des sites et espérer une augmentation du trafic issu des moteurs de recherche. Je vous propose donc de lister certaines missions que les référenceurs sont amenés à effectuer et certains outils sur le web qui permettent de nous aider dans ces taches. Voici le sommaire des points abordés: #1. Générateur de sitemap xml #2.
10 problèmes SEO et 18 outils pour les résoudre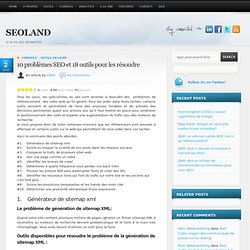 Kontest : Création de jeux-concours pour web et mobile - Appel à
22 Useful Online Chart & Graph Generators | Tools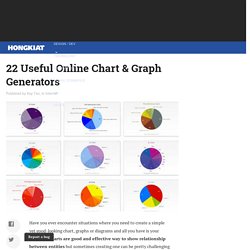 Have you ever encounter situations where you need to create a simple yet good-looking chart, graphs or diagrams and all you have is your browser? Charts are good and effective way to show relationship between entities but sometimes creating one can be pretty challenging especially when your favorite word processing software is not around. In today's post, we want to highlight some of the best web services that allow you to create various charts and graphs online on-the-fly.
WikiMatrix - Compare them all
wikihost.org Wikihost.org is a free wiki hosting service. The community platform uses single sign on to identify members and thus gives users easy access to many wikis (be it their own or those of others). Through ACL wiki owners can define which modifications can be done by a certain user role and define one role per member. Private wikis can be defined to hide content from unregistered members. All content is (fulltext) searchable and changes can be tracked via RSS feeds.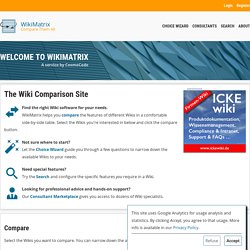 Le Kit du parfait Webdesigner #1 - Blog Du Webdesign
comprendre le langage Twitter du 1er coup
5 générateurs de mots clés Google
On parle pas mal de spams, de liens, de dofollow, de blogs. Mais finalement, je n'ai pas souvent abordé la recherche de mots clés Google. Du coup, j'ai décidé de vous filer l'ensemble des outils Google, outil en ligne, script que j'utilise comme générateur pour la recherche de mes mots clés lorsque je fais du référencement. Adword Keyword Tool External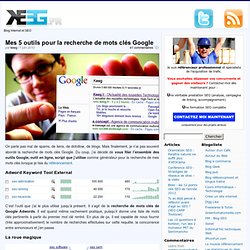 Create
Les outils d'intelligence économique au service de l'efficacité
suivi de positionnement google, ranking, outil SEO, référencemen