Ecrentschler
eric
hey hows it goin im a musician/actor/artist living out in california. Im into meditation
Buddhism & Mind. Meditation May Reduce Stress and Improves Health by MedicineNet. Medical Author: Melissa Conrad Stöppler, MD Medical Editor: Barbara K.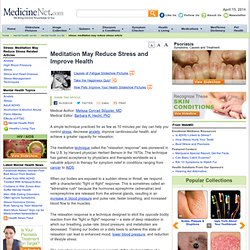 Hecht, PhD A simple technique practiced for as few as 10 minutes per day can help you control stress, decrease anxiety, improve cardiovascular health, and achieve a greater capacity for relaxation. The meditative technique called the "relaxation response" was pioneered in the U.S. by Harvard physician Herbert Benson in the 1970s. The technique has gained acceptance by physicians and therapists worldwide as a valuable adjunct to therapy for symptom relief in conditions ranging from cancer to AIDS. When our bodies are exposed to a sudden stress or threat, we respond with a characteristic "fight or flight" response. Unexplainable Store- Mind Music and Brainwave Altering Harmonics.
The Fastest Way To Have Lucid Dreams & OBEs Tonight - Tim... - a Σχολειο video. Out of Body Experience. Healing the Body with Mindfulness of Breathing « Metta Refuge. This excerpt from a talk by Zen Master Thich Nhat Hanh explains how to use mindfulness of breathing to bring loving-kindness to our dear bodies.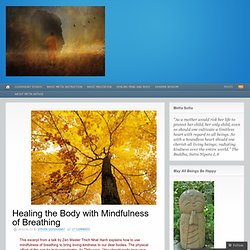 The physical effect of this can be truly remarkable. As Thây says, "You should really love your body. List of thought processes. Most Popular Photography Tips, Tricks, and Hacks of 2010.
Pearltrees videos
Help.
---