Gothic Literature General
Get flash to fully experience Pearltrees
A Glossary of Literary Gothic Terms ancestral curse . . . anti-Catholicism . . . body-snatching . . . cemetery . . . claustrophobia . . . gothic counterfeit . . . devil . . . dreaming/nightmares . . . entrapment . . . explained supernatural . . . exorcism . . . female gothic . . . ghost . . . grotesque . . . haunted house
The "Author List" of Jack Voller's provides on-line access to the growing number of Gothic titles available on the internet and a fascinating exercise in canon formation. "Overviews, Directories, and Collections" of : a secondary bibliography of Gothic scholarship, maintained by Professor Carol Davison of the "Annotated Bibliography" of ( UVa )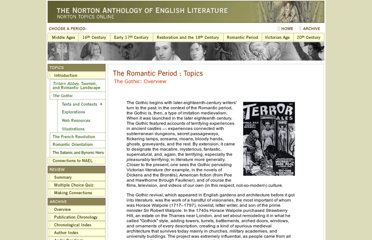 The Gothic begins with later-eighteenth-century writers' turn to the past; in the context of the Romantic period, the Gothic is, then, a type of imitation medievalism.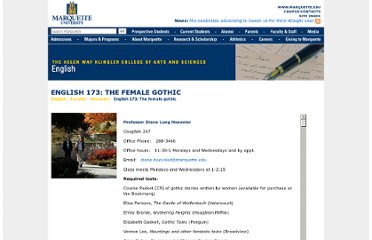 Columbia , 1979. Masse, Michelle. In the Name of Love. : Cornell, 1992. Modleski, Tania.
indicates a link that opens a new browser window ] Sublime Anxiety: The Gothic Family and the Outsider Special exhibit at the U of Virginia, focusing on early Gothic works and their treatments/modulations of family and hero-as-outsider; special sections include Women and the Gothic, the Brontës, The Vampire, and more. Romanticism on the Net Although not specifically concerned with the Gothic or supernaturalist traditions, this online peer-reviewed journal of Romantics studies publishes material on a number of authors and topics relevant to those traditions. Victorian Web
a short introduction The Gothic genre gained prominence in Britain in the late 18th century. Fog, smoke, decrepit mansions, insanity (usually afflicting a young heroine), sexuality, incest, and mystery are just some of the general characteristics of the Gothic literary tradition.