Jardinage
Concept - Serre Prix
Jardin Nature - Sels de déneigement: Les arbres, la neige et les sels de déneigement
Accueil | Conseil québécois de l'horticulture
Burpee Home Gardens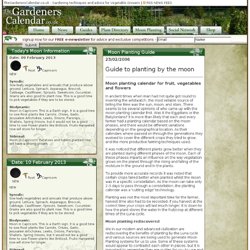 Guide to planting by the moon - The Gardeners Calendar
Moon planting calendar for fruit, vegetables and flowers In ancient times when man had not quite got round to inventing the wristwatch, the most reliable source of telling the time was the sun, moon, and stars. There seems to be several opinions of who came up with the moon planting calendar first. Was it the Egyptians or the Babylonians? It is more than likely that each and every farmer had a planting calendar based on the moon phases, and there would be different variations depending on the geographical location. As their calendars where passed on through the generations they evolved to cover the different crops they tried to grow, and the more productive farming techniques used.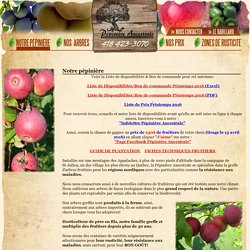 Pépinière ancestrale - Notre pépinière
Prenez note que nous priorisons les commandes passées avant le 1er avril. Après cette date, nous ferons notre possible pour les traiter sans garantie que nous les traiterons et ce, pour assurer un bon service des commandes déjà existantes. Merci de votre compréhension. Téléchargez la liste de Disponibilités/Bon de commande, cliquez sur: Disponibilités & Bon de Commande Printemps 2014
ForumPhyto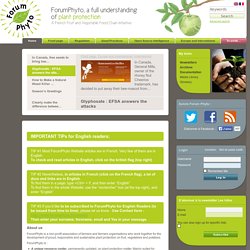 IMPORTANT TIPs for English readers: TIP #1 Most ForumPhyto Website articles are in French. Very few of them are in English.To check and read articles in English, click on the british flag (top right)
Un article de Ékopédia, l'encyclopédie pratique. Bienvenue sur le portail Cultiver Lumière sur... L'époque des vendanges varie selon les régions. Elle se situe entre juillet et octobre dans l'hémisphère nord.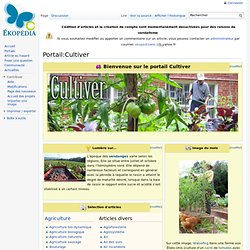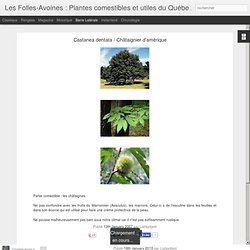 Plantes comestibles et utiles du Québec: Castanea dentata / Châtaignier d'amérique
Ce site est dédié à mes recherches sur les plantes indigènes, sauvages et cultivées comestibles et utiles du Québec. Ce site contient des recettes culinaires, des usages et des histoires recueillis dans des livres de référence tel la Flore Laurentienne, les livres de Fleurbec, 50 plantes utiles, Fleurs comestibles, Du jardin à la table, La cuisine des champs au Québec et les livres du Musée National des sciences naturelles. Il n'y aura plus mise-à-jour.
Board: Compost Tea
For Northern Gardeners, Landscapers And Homeowners
About OCA Buying Guide Subscribe Donate Search OCA
Organic Consumers Association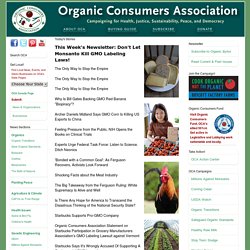 By A. R. Chase, Margery L. Daughtrey, and Gary W.
Diseases of Annuals and Perennials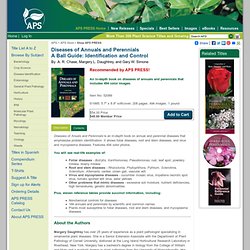 A worm composting system harnesses red compost worms, Eisinea foetida, and a contained forest floor ecosystem to convert kitchen scraps and shredded paper into worm castings, one of the best organic fertilizers you can get. Worm castings are a top-notch organic fertilizer for growing vegetables in containers. They have both fast- and- slow-releasing nutrients, but their main benefit is biological. Beneficial bacteria and fungi are concentrated in the last chamber of the worm gut, and inoculate the worm castings as they pass through. Organic soil amendments and potting mixes need the soil food web to break organic materials in the mix down into plant-usable nutrients. Fresh worm castings—complete with worms and worm cocoons—are the best way to introduce this forest floor ecosystem to container gardens.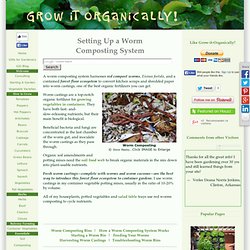 Worm Composting System, Red Worms Composting, Worm Composting Bins
Drivable Grass Concrete Paving System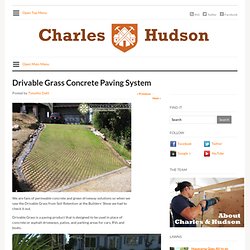 We are fans of permeable concrete and green driveway solutions so when we saw the Drivable Grass from Soil Retention at the Builders' Show we had to check it out. Drivable Grass is a paving product that is designed to be used in place of concrete or asphalt driveways, patios, and parking areas for cars, RVs and boats. The concrete paving mat is designed to flex and conform to irregular ground surface contours along pre-defined linear grooves without falling apart. Pre-manufactured holes and cracks allow for root penetration through the mat into subgrade soil, anchoring it firmly into place.
Composting Blog » Blog Archive » Raised Bed Vegetable Gardening
These are planters made from 1, 2 and 3-liter pop bottles. Use them and you will be reading a Rosetta stone of sub-irrigation (known incorrectly as "self-watering" in the consumer market). Use them and you will soon be growing superior plants while learning more about capillary action and how plants function. Use them to teach your children too. What they will learn is about science, not just gardening. Capillary action is the basic function behind all so called "self-watering" planters whether they be for decorative house plants or vegetable growing.
A Rosetta Stone of "Self-watering"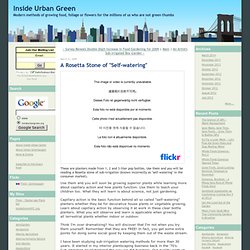 New & Improved for 2014 with the added bonus of sturdy carrying handles. Grow Bags are Fun & Foolproof - we have the right size for you to grow a Kitchen Garden right on your doorstep! For decades, gardeners in Europe have made the most of limited space by growing in plastic bags placed on steps, patios and landings. After achieving fantastic results ourselves, we've made two improvements.
Vegetable Grow Bags - Veseys
La bibliothèque numérique Hortalia présente les collections numérisées de la bibliothèque de la Société nationale d'horticulture de France. Elle est l'un des premiers fonds documentaires horticoles. Ces collections sont composées de plus de 3000 monographies anciennes, particulièrement précieuses pour l'histoire horticole, d'une collection de plus de 1500 périodiques, de catalogues de pépiniéristes – plus de 400 entreprises représentées – et d'un riche fonds iconographique. > Accéder à la bibliothèque numérique Hortalia La section potagers et fruitiers de la SNHF organise cette année un essai de culture de variétés de courgettes non coureuses afin de tester leur résistance à l'oïdium.
New Page 1
By Dr. Alex Shigo WARNING!
The Overstory 96 - Sheet Mulching