Tools
Historical Hurricane Tracks. MD-DE-DC- Streams. "Drought is a condition of moisture deficit sufficient to have an adverse effect on vegetation, animals, and man over a sizeable area.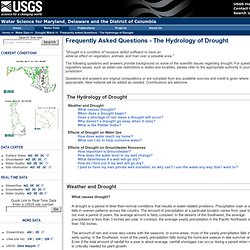 " The following questions and answers provide background on some of the scientific issues regarding drought. For questions on regulatory issues, such as water-use restrictions in states and localities, please refer to the appropriate authority in your jurisdiction. Questions and answers are original compositions or are compiled from any available sources and credit is given where appropriate. MPRES Real Time Hazard Summary. WTC/MPRES Real Time Hazard Summary This page is automatically generated by our computers as part of ongoing research by Watson Technical Consulting and the University of Central Florida Dept. of Statistics.
For more information please see our research page . IPS MeteoStar Weather Products. Animations and images featuring NOAA's remotely-sensed data. Welcome to Weather Underground. IbisEye: Your 2011 Hurricane source. NowCOAST: GIS Mapping Portal to Real-Time Environmental Observations and NOAA Forecasts. NOAA's National Weather Service. Hurricane Irene: 12 Ways to Track the Storm Online. There's a lot of excitement on the East Coast this week.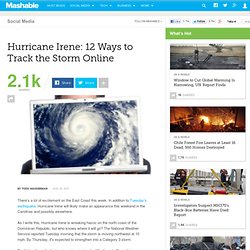 In addition to Tuesday's earthquake, Hurricane Irene will likely make an appearance this weekend in the Carolinas and possibly elsewhere. As I write this, Hurricane Irene is wreaking havoc on the north coast of the Dominican Republic, but who knows where it will go? The National Weather Service reported Tuesday morning that the storm is moving northwest at 10 mph.
---