Alert
Crown Weather Service
Make this page your one-stop source for tropical storm and hurricane information for the Atlantic Basin. Look below for a wealth of tropical weather information for the Atlantic and Caribbean. All images, forecasts, and documents are courtesy of their respective publishers.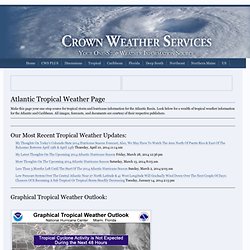 Space Science Engineering Center-UW
Humidity35%Wind SpeedSW 6 mphBarometer30.29 inDewpoint41°F (5°C)Visibility10.00 mi Last Update on 12 Apr 11:45 am EDT Current conditions at Frederick Municipal Airport (KFDK) Lat: 39.42°N Lon: 77.37°W Elev: 308ft.
NOAA-Germantown-Forecast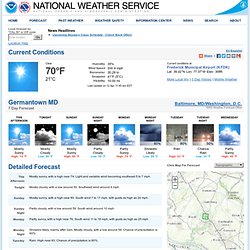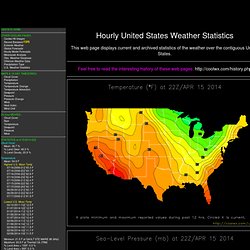 Cloud Cover Mean: 36.7 % % Land Clear: 48.3 % % Land Cloudy: 20.9 % Temperature Mean: 54.9 F Highest U.S. Mean Temp 07/16/2006-21Z 93.3 F 07/16/2006-22Z 93.1 F 07/16/2006-20Z 92.8 F 07/16/2006-23Z 92.4 F 07/15/2006-21Z 92.4 F 07/15/2006-22Z 92.1 F 07/15/2006-20Z 92.1 F 06/28/2012-21Z 92.1 F 06/28/2012-22Z 92.0 F 07/17/2006-21Z 91.9 F Lowest U.S.
Hourly United States Weather Statistics
Pacific Disaster Center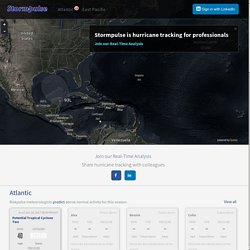 Anticipate Delays & Disruptions Those cable news channels weren't designed to work on your schedule or provide the level of detail you need to run an enterprise. Skip the hype with Stormpulse, where insight into potential threats is just a mouse-click away.
The Tropical Meteorology Project: [FORECASTS]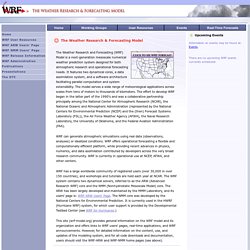 The Weather Research&Forecasting Model Website
The Weather Research and Forecasting (WRF) Model is a next-generation mesoscale numerical weather prediction system designed to serve both atmospheric research and operational forecasting needs. It features two dynamical cores, a data assimilation system, and a software architecture allowing for parallel computation and system extensibility. The model serves a wide range of meteorological applications across scales ranging from meters to thousands of kilometers. The effort to develop WRF began in the latter part of the 1990's and was a collaborative partnership principally among the National Center for Atmospheric Research (NCAR), the National Oceanic and Atmospheric Administration (represented by the National Centers for Environmental Prediction (NCEP) and the (then) Forecast Systems Laboratory (FSL)), the Air Force Weather Agency (AFWA), the Naval Research Laboratory, the University of Oklahoma, and the Federal Aviation Administration (FAA).