Alert
RSOE
Crown Weather Service. Make this page your one-stop source for tropical storm and hurricane information for the Atlantic Basin.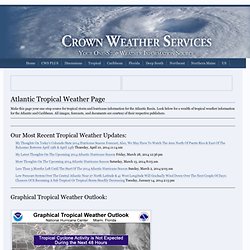 Look below for a wealth of tropical weather information for the Atlantic and Caribbean. All images, forecasts, and documents are courtesy of their respective publishers. CMISS. Emergency and Disaster Information Service. GDACS. Space Science Engineering Center-UW. NOAA-Germantown-Forecast. Humidity35%Wind SpeedSW 6 mphBarometer30.29 inDewpoint41°F (5°C)Visibility10.00 mi Last Update on 12 Apr 11:45 am EDT Current conditions at Frederick Municipal Airport (KFDK) Lat: 39.42°N Lon: 77.37°W Elev: 308ft.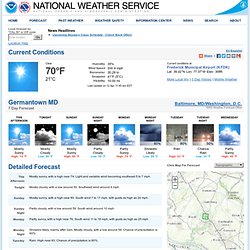 Hourly United States Weather Statistics. Cloud Cover Mean: 36.7 % % Land Clear: 48.3 % % Land Cloudy: 20.9 % Temperature Mean: 54.9 F Highest U.S.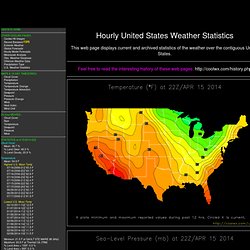 Mean Temp 07/16/2006-21Z 93.3 F 07/16/2006-22Z 93.1 F 07/16/2006-20Z 92.8 F 07/16/2006-23Z 92.4 F 07/15/2006-21Z 92.4 F 07/15/2006-22Z 92.1 F 07/15/2006-20Z 92.1 F 06/28/2012-21Z 92.1 F 06/28/2012-22Z 92.0 F 07/17/2006-21Z 91.9 F Lowest U.S. National Hurricane Center-Main.
NOAA-STAR
NWS. Pacific Disaster Center. Stormpulse / Hurricanes, severe weather, tracking, mapping. Tropical Weather. The Tropical Meteorology Project: [FORECASTS] The Weather Research&Forecasting Model Website. USGS.
---