Flipped classroom
The Electric Educator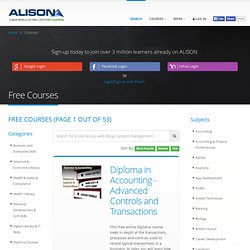 List of Free Courses
ACT Math Exam Prepare for the ACT (American College Testing) math exam successfully Adobe Photoshop Improve your Photoshop skills and learn how to effectively edit pictures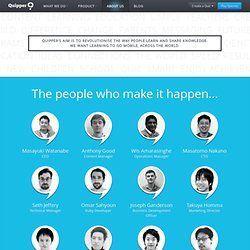 About - Quipper
Quipper's mission is to gather and distribute knowledge to a worldwide community of learners through mobile e-learning. Our service Provides an iterative e-learning resource in a quiz format Encourages users to learn and compete socially in a mobile environment Allows users to create their own quizzes via a content-distribution platform Engages millions of users worldwide
4 Ways Flipping Forces Fundamental Change - Getting Smart by Susan Lucille Davis - edchat, edreform, flipped classroom
Email Share June 14, 2012 - by Susan Lucille Davis 0 Email Share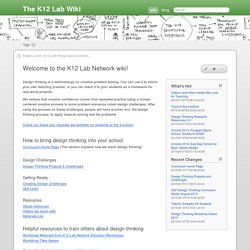 Welcome to the K-12 Lab wiki!
Design thinking is a methodology for creative problem solving. You can use it to inform your own teaching practice, or you can teach it to your students as a framework for real-world projects. If you've tried design thinking in your school, please consider taking the survey below. Your responses help us continue to iterate our offerings.
The Patterson Foundation
The Kit March 26th, 2011 | Brendan | | --> What on earth is Design Thinking? Why Design Thinking?
The Kit | Reinventing School
Reinventing School. You co-design it, We make it possible - Re-imagine, Reinvent, Rethink, Empathy, Education 3.0, Transform, Revolution, Collaboration, Design Thinking Challenge, 21st Century Skills, Project
College Completion Agenda - Roadmap for Policymakers and Educators | The College Completion Agenda
Aaron Sams, founder of the flipped learning network presents flipped learning at Three Rivers Technology in Education Conference. Learn how Salon can be your tool to implement "flipped classrooms". Nove 15, 2012 Now you can access classroom salon on your mobile device.
Classroom Salon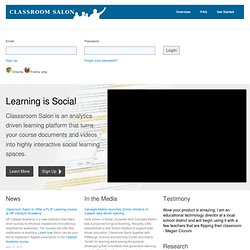 OpenStudy
Flipped Classroom Resources