Printing
Big Cartel - Simple shopping cart for artists, designers, bands, record labels, jewelry, crafters. WHCC. AdoramaPix. Greener Printer. UPrinting. Canon Pixma Pro9500 Mark II Review.
On a desk, the Mark II version of the Pro9500 doesn't look much different from the original unit that Canon rolled out a few years ago: it's a hulking, gray and black two-tone box.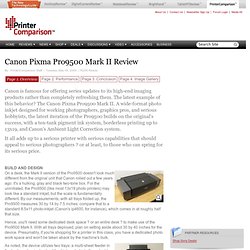 For the uninitiated, the Pro9500 (like most 13x19 photo printers) may look like a standard inkjet, but the scale is fundamentally different. By our measurements, with all trays folded up, the Pro9500 measures 30 by 14 by 7.5 inches; compare that to a standard 8.5x11 photo-inkjet (Canon's ip4600, for instance), which comes in at roughly half that size. Hence, you'll need some dedicated desk space ? Or an entire desk ? Canon PIXMA Pro9000 Mark II Printer. Digital Camera Home > Photo Printer > Canon PIXMA Pro9000 Mark II Printer By MIKE PASINI EditorThe Imaging Resource Digital Photography Newsletter Review Date: June 2009 Canon introduced two Mark II printers in March.
The $850 Pro9500 Mark II uses 10 pigment inks and the $500 Pro9000 Mark II uses eight dye inks. Both make 13x19-inch prints.
---