MapReduce
MongoDBManagement Service AutomationComing Soon Run MongoDB with Confidence Free Monitoring and Premium Backup for MongoDB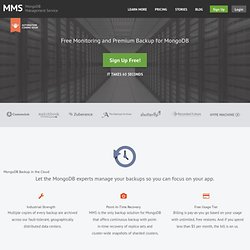 MMS » Login
Yet another MongoDB Map Reduce tutorial | MongoVUE
Background As the title says, this is yet-another-tutorial on Map Reduce using MongoDB. But two things that are different here: A problem solving approach is used, so we'll take a problem, solve it in SQL first and then discuss Map Reduce. Lots of diagrams, so you'll hopefully better understand how Map Reduce works. The Problem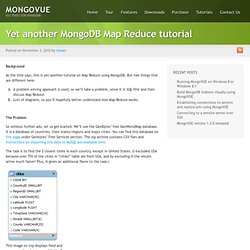 (Yes it's a long title, since people kept asking me to write about this and that too :) I do when it has a point.) While SQL databases are insanely useful tools, their monopoly in the last decades is coming to an end. And it's just time: I can't even count the things that were forced into relational databases, but never really fitted them. (That being said, relational databases will always be the best for the stuff that has relations.) But, the differences between NoSQL databases are much bigger than ever was between one SQL database and another.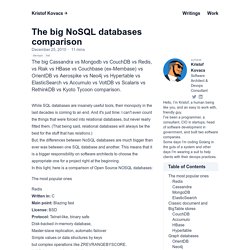 What Is Apache Hadoop? The Apache™ Hadoop® project develops open-source software for reliable, scalable, distributed computing. The Apache Hadoop software library is a framework that allows for the distributed processing of large data sets across clusters of computers using simple programming models. It is designed to scale up from single servers to thousands of machines, each offering local computation and storage. Rather than rely on hardware to deliver high-availability, the library itself is designed to detect and handle failures at the application layer, so delivering a highly-available service on top of a cluster of computers, each of which may be prone to failures. The project includes these modules:
Get that Linux feeling - on Windows What... ...is it? Cygwin is: a large collection of GNU and Open Source tools which provide functionality similar to a Linux distribution on Windows. a DLL (cygwin1.dll) which provides substantial POSIX API functionality. ...isn't it?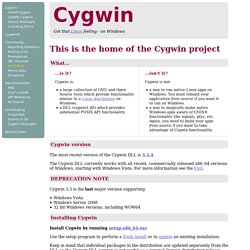 Dans ce tutorial, nous allons découvrir Hadoop au travers de son système de fichiers distribués et son mécanisme de Map/Reduce. Comprendre les grands concepts de Hadoop Comprendre le HDFS et le mécanisme de Map/Reduce Hadoop est un projet Open Source écrit en java, distribué par la fondation Apache.
Comprendre Hadoop en moins de 5 minutes « Java EE performance
Hadoop Tutorial
home | Cloud Types | Related Technologies What is Hadoop? Miha Ahronovitz, Ahrono & Associates Kuldip Pabla, Ahrono & Associates Hadoop is a fault-tolerant distributed system for data storage which is highly scalable. The scalability is the result of a Self-Healing High Bandwith Clustered Storage , known by the acronym of HDFS (Hadoop Distributed File System) and a specific fault-tolerant Distributed Processing, known as MapReduce. (Hadoop Distributed File System) and a specific fault-tolerant Distributed Processing, known as MapReduce.