SEO
Domains - SEO Best Practices
A root domain is the top level hierarchy of a domain. Root domains are purchased from registrars. The following are examples of root domains: A subdomain is a "third level" domain name that is part of a larger, top level domain. For example, "blog.example.com" and "english.example.com" are both subdomains of the ".example.com" root domain. Subdomains are free to create under any root domain that a webmaster controls.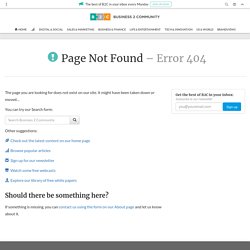 Start Up SEO Guide: Picking A Domain Name For Your Start Up
If an investor or customer searches for your company name or product, will they find you? The Beginning From the get go, start-ups have to be thinking about search engine optimization . When you first launch a website, it will not rank for its own name.
SEO Tutorial – Domain Name Optimization New to SEO? Need to polish up your knowledge? The Beginner's Guide to SEO has been read over 1 million times and provides comprehensive information you need to get on the road to professional quality SEO. What is Search Engine Optimization (SEO)? SEO is the practice of improving and promoting a web site in order to increase the number of visitors the site receives from search engines.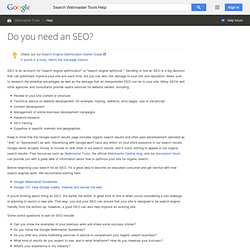 SEO is an acronym for "search engine optimization" or "search engine optimizer." Deciding to hire an SEO is a big decision that can potentially improve your site and save time, but you can also risk damage to your site and reputation. Make sure to research the potential advantages as well as the damage that an irresponsible SEO can do to your site.
SEO stands for "search engine optimization." It is the process of getting traffic from the "free," "organic," "editorial" or "natural" listings on search engines. All major search engines such as Google , Yahoo and Bing have such results, where web pages and other content such as videos or local listings are shown and ranked based on what the search engine considers most relevant to users.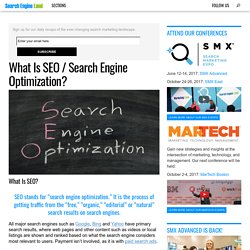 Using Webmaster Tools like an SEO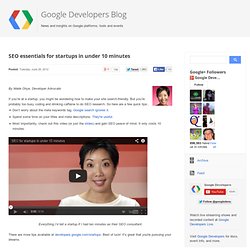 SEO essentials for startups in under 10 minutes - Google Developers Blog
By Maile Ohye, Developer Advocate If you're at a startup, you might be wondering how to make your site search-friendly. But you're probably too busy coding and drinking caffeine to do SEO research. So here are a few quick tips:. Don't worry about the meta keywords tag.