Beauty
How To Create A Simple Brown Smoky Eye Makeup Tutorial. Since you guys wanted to see more step-by-step tutorials, I will be doing a series of makeup tutorials starting with one of my favorite looks, smoky eyes.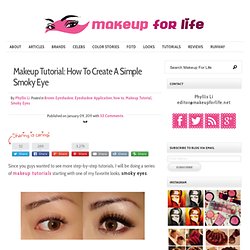 One thing I LOVE about the smoky look is how versatile it is. You can use pretty much any color and you can go from a soft smoky to a really dramatic one. Get Out of My Hair. 25 Beauty Tips Reusing Household Items – Homemade Beauty Tips on ELLE. 1.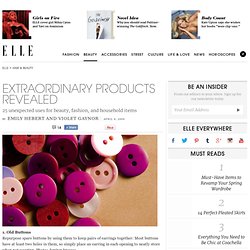 Old Buttons Repurpose spare buttons by using them to keep pairs of earrings together: Most buttons have at least two holes in them, so simply place an earring in each opening to neatly store when not wearing. Photo: Jupiter Images 2. Eyebrow Brush Stuck without a lint-remover? Use this handy makeup tool to remove unwanted fuzz from your shirt. How to make your own pore strips. You know those Biore pore strips you buy at the drugstore for about $12 a pop? Yeah, those. Today I'm going to teach you how to make your own homemade pore strips. 7 Simple but Unbelievably Effective Homemade Acne Cleansers … Home Acne Treatments not only work well, but they save money.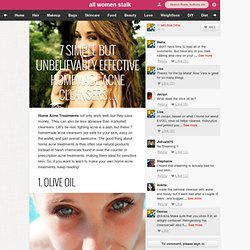 They can also be less abrasive than marketed cleansers. Let's be real, fighting acne is a pain, but these 7 homemade acne cleansers are safe for your skin, easy on the wallet, and just overall awesome. The good thing about home acne treatments is they often use natural products instead of harsh chemicals found in over-the-counter or prescription acne treatments, making them ideal for sensitive skin. So, if you want to learn to make your own home acne treatments, keep reading! 9 Charmingly Delightful Beauty Techniques from All Over the World …
Beauty techniques are highly beneficial, but some of them are incredibly recycled.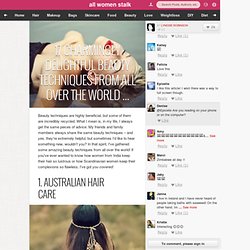 What I mean is, in my life, I always get the same pieces of advice. My friends and family members always share the same beauty techniques – and yes, they're extremely helpful, but sometimes I'd like to hear something new, wouldn't you? In that spirit, I've gathered some amazing beauty techniques from all over the world! If you've ever wanted to know how women from India keep their hair so lustrous or how Scandinavian women keep their complexions so flawless, I've got you covered! Make-up | La Patka.
---