Visualizations & InfoGraphics
5 Great infographic Creation Tools for Teachers. Creating infographics is a skill much needed in the 21st century classroom.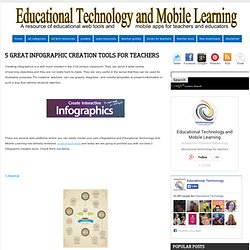 They can serve a wide variety of learning objectives and they are not really hard to make. They are very useful in the sense that they can be used for illustrative purposes. For instance, teachers can use graphs, diagrams , and colorful templates to present information in such a way that catches students attention. Alltop - Top Infographics News. InfoGraphics. How The World Spends Its Time Online - Have you ever wondered how people across the world spend their time online?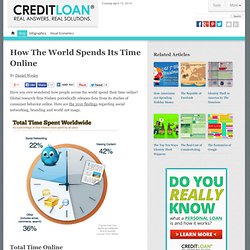 Global research firm Nielsen periodically releases data from its studies of consumer behavior online. Here are the 2010 findings regarding social networking, branding and world net usage. Total Time Online The average person spends more than 60 hours a month online. If Twitter Consisted of 100 People [Gorgeous Graphics] A Periodic Table of Visualization Methods. Data as Art: 10 Striking Science Maps | Wired Science. The computer age triggered a seemingly endless stream of scientific data, but such incoming mountains of information come at a cost.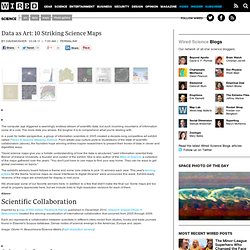 The more data you amass, the tougher it is to comprehend what you're dealing with.In a push for better perspective, a group of information scientists in 2005 created a decade-long competitive art exhibit called Places & Spaces: Mapping Science. From artistic pop-culture plots to illustrations of the state of scientific collaboration (above), the founders hope winning entries inspire researchers to present their troves of data in clever and digestible ways. "Good science maps give you a holistic understanding of how the data is structured," said information scientist Katy Börner of Indiana University, a founder and curator of the exhibit. She is also author of the Atlas of Science, a collection of the maps gathered over the years. Gallery: 10 Stunning Science Visualizations | Wired Science. All too often, the beauty of scientific knowledge gets trapped in monochrome graphs and jarring acronyms.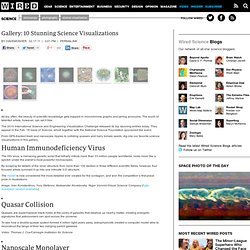 The touch of talented artists, however, can set it free.The 2010 International Science and Engineering Visualization Challenge released its top stunning entries today. Browsing visualizations. JavaScript InfoVis Toolkit. The art of data visualization. Visual Thinking. Data visualization.
---