Programming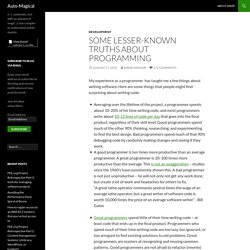 My experience as a programmer has taught me a few things about writing software. Here are some things that people might find surprising about writing code: Averaging over the lifetime of the project, a programmer spends about 10-20% of his time writing code, and most programmers write about 10-12 lines of code per day that goes into the final product, regardless of their skill level. Good programmers spend much of the other 90% thinking, researching, and experimenting to find the best design. Bad programmers spend much of that 90% debugging code by randomly making changes and seeing if they work.A good programmer is ten times more productive than an average programmer.
Make Programming Fun Again
Getting started As both a game master/storyteller and a developer, I frequently find myself writing little utilities and scripts to help me when running, planning, and playing games. Sometimes I need a quick idea. Other times, I just need a whole pile of names for Non-Player Characters (NPCs). Occasionally, I need to geek out on numbers, work out some odds, or integrate some word puzzles into a game.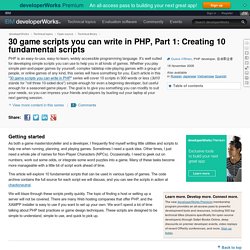 Update – Update.. This List has Grown to 345… Update: – I will be updating this list very shortly, many of the links were taken from http://www.programmingebooks.tk/ How to Be a Programmer http://samizdat.mines.edu/howto/HowToBeAProgrammer.htmlHow to Design Programs http://www.htdp.org/2002-09-22/Book/Practical Theory of Programming http://www.cs.toronto.edu/%7Ehehner/aPToP/Software Engineering for Internet Applications http://philip.greenspun.com/seia/Structure and interpretation of computer programs http://mitpress.mit.edu/SICP/More programming books http://2020ok.com/3839.htmThe Programmers Stone http://www.reciprocality.org/Reciprocality/r0/Subversion Version Control: Using the Subversion Version Control System in Development Projects http://www.phptr.com/promotions/promotion….84&redir=1&rl=1 Ada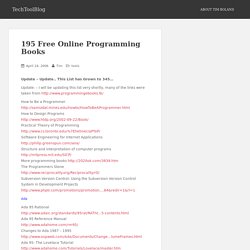 The dates for each paper presentation are listed below. For each paper, a student or group of students will be asked to present the paper. The presentation should present a technical overview of the paper and argue the merits and flaws of the paper. Each paper presentation should be 25-30 minutes, plus time for questions. There will be 2 paper presentations per class. All students are required to read the papers before they are presented.