Hardware, Firmware, Operating systems, etc.
Why Your Wi-Fi is Slow (And How You Can Fix It)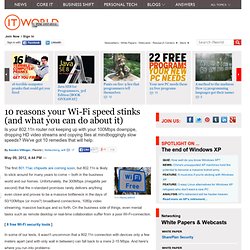 May 09, 2012, 4:44 PM — The first 801.11ac chipsets are coming soon, but 802.11n is likely to stick around for many years to come -- both in the business world and our homes. Unfortunately, the 300Mbps (megabits per second) that the n-standard promises rarely delivers anything even close and proves to be a massive bottleneck in the days of 50/100Mbps (or more?) broadband connections, 1080p video streaming, massive backups and so forth.
We're big fans of hacking the Windows Registry around here, and we've got one of the biggest collections of registry hacks you'll find. Don't believe us? Here's a list of the top 50 registry hacks that we've covered. It's important to note that you should never hack the registry if you don't know what you're doing, because your computer will light on fire and some squirrels may be injured. Also, you should create a System Restore point before doing so.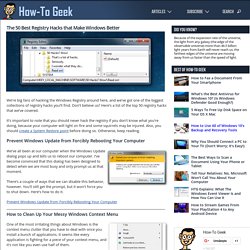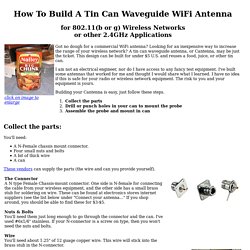 Assemble the probe and mount in can Now you'll need that bit of wire. You'll need a soldering iron or a friend with one as well. Cut the wire so that when it is stuck in the connector as shown, the total length of both the brass tube and wire sticking out past the connector is 1.21". Get as close to this length as you can.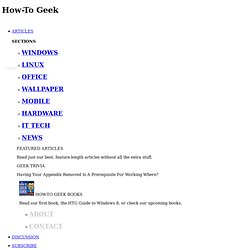 Over the years, we've written about loads of ways to disable features, tweak things that don't work the way you want, and remove other things entirely. Here's the list of the 50 best ways to do just that. Just in case you missed some of our recent roundup articles, here's a couple of roundups of our very best articles for you to check out: If you've already been through those, keep reading for how to disable loads of Windows features you might not want. Disable Context Menu Items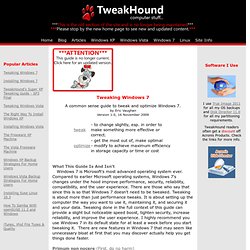 Tweaking Windows 7 A common sense guide to tweak and optimize Windows 7.by Eric VaughanVersion 1.0, 16 November 2009 What This Guide Is And Isn't Windows 7 is Microsoft's most advanced operating system ever. Compared to earlier Microsoft operating systems, Windows 7's changes under the hood improve performance, security, reliability, compatibility, and the user experience. There are those who say that since this is so that Windows 7 doesn't need to be tweaked. Tweaking is about more than just performance tweaks.
Tweaking Windows 7, Page 1
25 Extremely Desktop Customization + Tools to Customize Your Own
30 Extremely Desktop Customization + Tools to Customize Your Own Details Category: Showcase Hits: 82773 If you're not keen on the cookie-cutter appearance of your OS or windows, we've covered a handful of great tools for tweaking every last pixel of your desktop so it looks and acts just how you want. These are all small things that can be changed to make the desktop experience more desirable, cutom and geared to our own interests.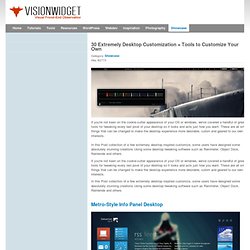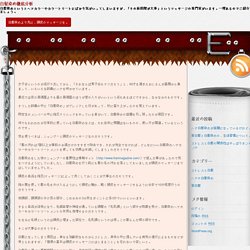 Look up any error codes to find out what they actually mean. Help us to help you... fill in extra search criteria Platform: Windows OS X iOS Android Product: Version: Recent Comments trik windows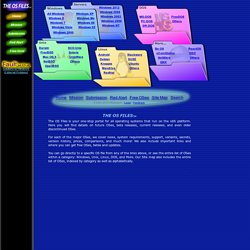 The OS Files is your one-stop portal for all operating systems that run on the x86 platform. Here you will find details on future OSes, beta releases, current releases, and even older discontinued OSes. For each of the major OSes, we cover news, system requirements, support, variants, secrets, version history, prices, comparisons, and much more! We also include important links and where you can get free OSes, betas and updates. You can go directly to a specific OS file from any of the links above, or see the entire list of OSes within a category: Windows, Unix, Linux, DOS, and More.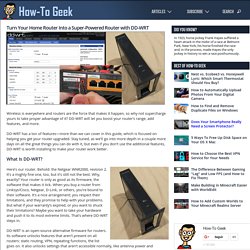 Wireless is everywhere and routers are the force that makes it happen, so why not supercharge yours to take proper advantage of it? DD-WRT will let you boost your router's range, add features, and more. DD-WRT has a ton of features—more than we can cover in this guide, which is focused on helping you get your router upgraded. Stay tuned, as we'll go into more depth in a couple more days on all the great things you can do with it, but even if you don't use the additional features, DD-WRT is worth installing to make your router work better. What Is DD-WRT?