Astrolabe
The astrolabe project. 1.
Photocopy these pieces onto sheets of construction paper. If you prefer, here is a Word file (.doc), for a better quality of the pictures: Pieces cardboard astrolabe.doc . Astrolabe. Astrolabes. This exercise was developed to be used at the TOPS 1995 workshop in Kamuela (by O.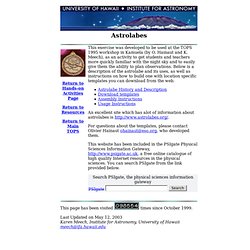 Hainaut and K. Meech), as an activity to get students and teachers more quickly familiar with the night sky and to easily give them the ability to plan observations. Below is a description of the astrolabe and its uses, as well as instructions on how to build one with location specific templates you can download from the web. An excellent site which has alot of information about astrolabes is For questions about the templates, please contact Olivier Hainaut ohainaut@eso.org, who developed them. Astrolabe.
---