Trade Unions & Concilliation
Resolving workplace disputes - public consultation | Consultations
UNISON the public service union - Activists zone
Education Programme 2011.pdf (application/pdf Object)
The South East region equality conference 2011 will be held at NUT, Hamilton House on 19th July 2011. This years theme is "Advancing Equality for All" The event will feature speakers including Sally Bret from the TUC and also speakers from equality action groups (Fawcett Society and BARAC- to be confirmed), as well as workshops, discussion groups, and more. A buffet lunch and refreshments will be provided. If you are interested in attending complete the application form by following the below link.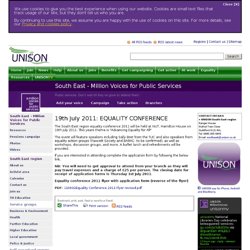 South East | Million Voices for Public Services
Rosenkranz Foundation
Policy Exchange
UNISON South East | the public service union
In October, four representatives from the Disabled Members Committee met with the Shadow MP, Anne McGuire. They had an opportunity to raise some of key issues currently impacting UNISON's disabled members. Please see below for the Question and Answer feedback. Q&A Anne McGuire MP : QandA Anne McGuire Web Version.pdf This card can be used to write your UNISON membership number on, it also has listed on it the UNISONDirect phone number and useful websites relating to disabilities.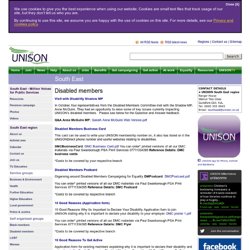 Trade Union Disability Alliance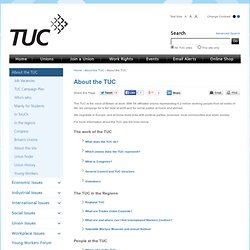 Regional TUC Find out what's happening in your region? Disability Network The Disabilities Network has representativesfrom both public and private sectors and wide variety of trade unions, it covers physical and learning difficulties.
About the TUC
Regional TUC Find out what's happening in your region? About Southern and Eastern TUC SERTUC, the Southern & Eastern Region of the TUC, is the largest of the TUC's six English regions and covers three of the former government regions: London, the South East, and East of England.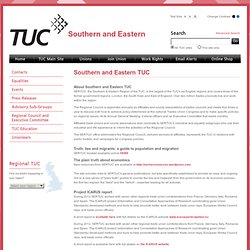 In the regions
Portsmouth Trades Union Council | unity is strength + founded 1886
My UNISON
Unions Together | Let's give the Pensions Bill the chop once and for all
Unite 4 our NHS | Our Blood Is Not For Sale
UNIONREPS.org.uk from TUC Online
Coalition of Resistance Against Cuts & Privatisation | A coalition of groups fighting cuts and privatisation
Right to Work
Craig Berry The likelihood of the government reneging on its apparent commitment to pensioner benefits – such as Winter Fuel Payments (WFP), free TV licences, free prescriptions and eye tests, and free bus travel – increased significantly this morning after the Deputy Prime Minister Nick Clegg signalled his support for dramatic cuts in expenditure in these areas. There may be strong arguments for and against the system of additional pensioner benefits as it stands. The real danger in the current political climate is that reforms are motivated simply by the positioning of coalition partners, and a desire to reduce the budget deficit at all costs. Continue Reading →
Cuts Watch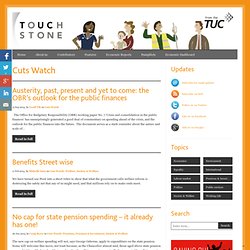 quickreads.org.uk
Campaigning in the South East Uploaded with ImageShack.us There's never been a more important time for UNISON members to get involved in campaigning. Our public services, jobs and pensions are being targeted by Cameron and Clegg who are determined to make workers and service users pay the price of the global recession.
UNISON South East | the public service union
Acas - Home
UNISON | The public service trade union