Trade Unions & Concilliation
Resolving workplace disputes - public consultation | Consultations. UNISON the public service union - Activists zone. With more than 1.3 million members working for public bodies, private companies and voluntary-sector bodies across the full range of public services, being part of UNISON means you have the full weight of the UK's leading trade union behind you.
You can help your colleagues and fellow UNISON members tackle this and other issues by becoming a UNISON rep or workplace contact. Our activists and reps are organisers who talk to, recruit and organise members around workplace issues, hold meetings, undertake surveys and help run ballots. They give members information about union issues by publicising campaigns, distributing leaflets and keeping members informed about and involved in local negotiations.
Rosenkranz Foundation. Policy Exchange. Trade Union Disability Alliance. About the TUC. In the regions. About Southern and Eastern TUC SERTUC, the Southern & Eastern Region of the TUC, is the largest of the TUC's six English regions and covers three of the former government regions: London, the South East, and East of England.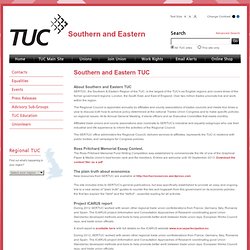 Over two million trades unionists live and work within the region. The Regional Council is appointed annually by affiliates and county associations of trades councils and meets four times a year to discuss both how to achieve policy determined at the national Trades Union Congress and to make specific policies on regional issues. At its Annual General Meeting, it elects officers and an Executive Committee that meets monthly.
Portsmouth Trades Union Council | unity is strength + founded 1886. My UNISON. Unions Together | Let's give the Pensions Bill the chop once and for all.
Unite 4 our NHS | Our Blood Is Not For Sale. UNIONREPS.org.uk from TUC Online. Coalition of Resistance Against Cuts & Privatisation | A coalition of groups fighting cuts and privatisation. Right to Work. Cuts Watch. Benefits Street wise 17 Feb 2014, by Michelle Doust in Cuts Watch: Welfare, Society & Welfare We have turned our Prezi into a short video to show that what the government calls welfare reform is destroying the safety net that any of us might need, and that millions rely on to make ends meet.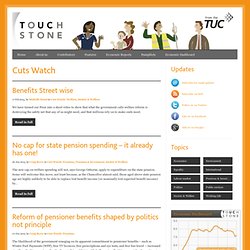 Read in full No cap for state pension spending – it already has one! 26 Jun 2013, by Craig Berry in Cuts Watch: Pensions, Pensions & Investment, Society & Welfare. Quickreads.org.uk. UNISON South East | the public service union. Campaigning in the South East Uploaded with ImageShack.us There's never been a more important time for UNISON members to get involved in campaigning.
Our public services, jobs and pensions are being targeted by Cameron and Clegg who are determined to make workers and service users pay the price of the global recession. Acas - Home. UNISON | The public service trade union.
---