Other Regional
I'm already Gone Herbs are heaven. A few clippings of lemongrass into a pot of pho, some rosemary in a ball of bread dough, or a sprinkling of cilantro over rice and I'm transported to another place entirely. Another continent. I don't even have to eat the herbs – I can shut my eyes and breathe in their aroma and … ahhhh… I'm already gone. It doesn't help that I've been digging in the garden for these last couple of weeks… early spring is my favorite time of year because anything is possible.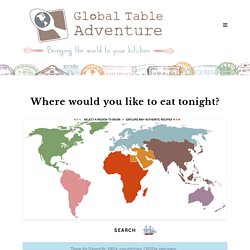 Global Table Adventure | Eat your way around the world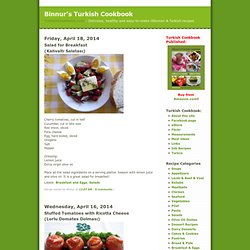 (Tavuklu Erişte) 2 servings of medium-size egg noodles 2 tbsp butter Half of barbecued chicken* Salt Pepper 1/2 tsp lemon zest, optional Remove the skin and bones of the chicken.
www.turkishcookbook.com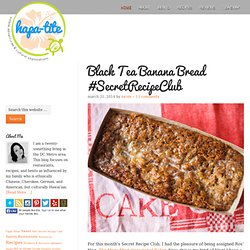 Hapa-tite — edible adventures & cultural explorations
Last week I celebrated my 27th birthday. It's hard to believe that 10 years ago I was starting college and dating my-now-fiance Dan. We've started a tradition where each year Dan bakes me a cake for my birthday. Last year he baked this amazing Coffee & Donuts cake and this year we decided on an Espresso Biscoff concoction.
La Tavola Marche
We live in the foothills of the Apennines, the kingdom of pork and rich meaty dishes from the mountains, so when we want to eat-out in Le Marche where do we go from something different...Fano for pesce fish of course! Fano is the ancient Roman seaside settlement, complete with the Arco D' Augusto (year 9 A.D.) that welcomes you at the main entrance to this walled fisherman's village. We love it here. The Saturday morning market is charming & bustling with locals shopping & socializing and the warm summer evenings make you want to linger long into the night ,pouring another glass of Verdicchio and breathing in that salty sea air. Picking a good seafood restaurant can be tricky especially once tourists season along the Adriatic Coast opens up in June. There's a million crappy pizza places & sub-par frozen fish joins that pepper the coastline from Rimini to Pescara.
It's been a very warm start to autumn here in Sydney and on most days it still feels like summer. Humidity has been similar to what we usually get in February and that has made days feel even muggier. Hence I gladly accepted an offer to review and taste test Bionade, a refreshing organic soft drink that's been a best seller in Europe for quite some time and is now making its way down under. I must admit I was a bit hesitant first and I thought this drink would be way too sweet for my liking. I haven't been able to drink sugary soft drinks for ages and those sweetened artificially don't suit my gut at all.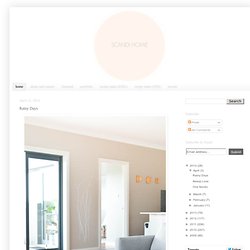 Scandi Foodie
The Recipe Blog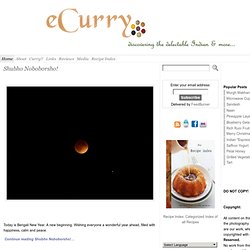 Happy New Year to all my readers, friends and family! Another beautiful year is upon us; a clean canvas to write on and make memories. We wish you all the best. Continue reading Stuffed Mushrooms in Creamy Tomato Sauce… These cookies are what dreams are made of.
Taro admittedly has a gruff exterior which may be the reason many people stay away from this vegetable. I did for a long time, until my Egyptian-born friend Phoebe pointed to a bag of frozen taro cubes (with a seasoning packet) in the freezer section of the Middle-Eastern store; she exclaimed happily "kolkass"and immediately grabbed a bag and threw it in her cart. Egyptians are fond of it and eat it as a stew with chard and lamb shanks. In Lebanon, taro is shaped like a short and round potato. In the US I have seen taro shaped like a thick brown carrot (it looks like a branch of a tree) or like a turnip with a brown and coarse outer covering. Taro is a very nutritious vegetable (lots of fiber) and tastes good; it can replace potatoes in just about any dish.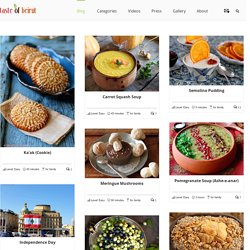 Exploring the culinary world of the Middle-East | Taste of Beirut
Boulder Locavore - Local. Seasonal. Food. Drink.
Afghan Cooking Channel
Juls' Kitchen - a Tuscan girl savouring the world one bite at a time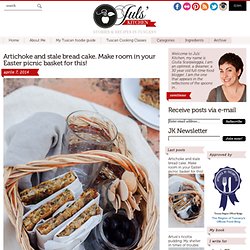 aprile 7, 2014 We have a saying in Italy: Natale con i tuoi, Pasqua con chi vuoi, that can be roughly translated into stay with your family for Christmas and choose your company for Easter. Christmas is a family institution, you don't even ask yourself what you will do, because you know that you'll spend that special day with your relatives. Don't even try to arrange other plans. Easter is a different matter: you are almost free to choose where and how you will spend that day.
Ecualombian
eCurry - The Recipe Blog
Here comes another recipe from home, cradled with memories of my times with my mamoni who was my second mother. I run my fingers over the letters of the recipe on the paper – once written and held by her. Many days and months of my life have been spent in my aunt's home, whom I fondly called "mamoni", ma's sister.
My childhood was, culinarily speaking, a limited one. At home we mostly had Mexican food, because that's what my mother knows how to cook. Occasionally she or my sister would cook an international dish or we would go out for pizza or Chinese food. It really wasn't until I met my husband that my culinary experience broadened. When we were dating, every weekend he introduced me to a new cuisine or dish. I absolutely loved eating all of those new foods, and also encouraging others to try them too.
Spicie Foodie™ ~ Spicy Foodie. Healthy, Fresh and delicious recipes to spice up your kitchen and life!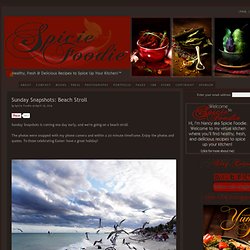 bell'alimento authentic Italian cuisine
Poached eggs. You should really get into them. More specifically you should get into poached eggs in tomato sauce. It is going to be your new favorite breakfast or brunch dish. Or late night snack or whenever. It's so simple but satisfying.