Training
Get flash to fully experience Pearltrees
Path // → → BASIC JAVASCRIPT JavaScript is a very easy way to add all sorts of dynamic elements to your site. Unless you've had some programming experience, JavaScript will be quite a new concept at the start — it's fairly different to HTML. In this tutorial we'll be laying some groundwork on the language, and writing our first script.
Webteacher Software now offers if (Ret=="castle") { location = 'ch03_1.html';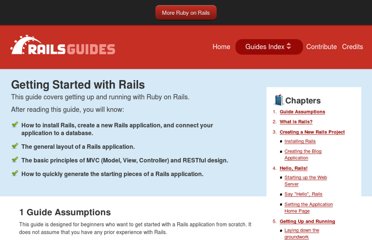 This Guide is based on Rails 3.2. Some of the code shown here will not work in earlier versions of Rails. 1 Guide Assumptions This guide is designed for beginners who want to get started with a Rails application from scratch. It does not assume that you have any prior experience with Rails.
Developing Ruby on Rails applications requires an ability to program in the Ruby language. This guide, written by the creator of Ruby, provides an easy to follow guide to the Ruby programming language, covering all the important topics including variables, looping, object-oriented programming, strings, arrays, error handling and much more. This guide is recommended for anyone planning to develop using the Ruby on Rails framework. ...
If you're a Web developer who's been curious about Ruby on Rails but has never gotten around to trying it out because you couldn't find a suitable overview of its advantages, then this article is for you. We want to bring Ruby on Rails closer to those who want to take a peek first, without going through an entire tutorial. So, this article is structured a little different from most other introductions out there; hopefully it is more useful because of this. I assume you're already familiar with some other form of Web development , whether PHP, Python, Perl or Java, and relational databases like MySQL. First, we'll introduce Rails and Ruby and the basic ideas behind both.