Market Research
Says Worldwide Relational Database Market Increased 14 Percent i
IDC's Database Market Share Analysis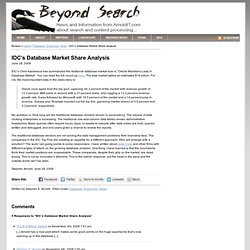 IDC's Chris Kanaracus has summarized the relational database market size in "Oracle Maintains Lead in Database Market".
Jun 26 2008 10:46AM GMT Posted by: badarrow
Database market share war resumes - Channel Marker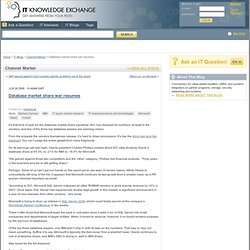 Smaller-Sized Companies Also Need Knowledge Management
The Global Enterprise Applications Software Market Forecast Upda
Support Your Business Gartner for Supply Chain Professionals supports senior supply chain executives and functional area leads from planning, sourcing, manufacturing, logistics and sustainability on a number of key issues: Demand Management Inventory Optimization Logistics Management Sales and Operations Planning Sourcing and Procurement Excellence Global Manufacturing Strategy Supply Chain Risk Management Sustainability Gartner for Supply Chain Leaders Gartner for Supply Chain Leaders delivers objective, actionable insight and best practices to help supply chain professionals build, manage and transform global supply.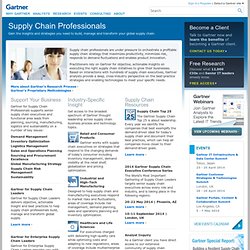 Says Worldwide Application Development Software Market Declined
Worldwide project application development (AD) software revenue fell to $7.25 billion in 2009, a decrease of 2 percent from 2008 revenue of $7.39 billion, according to Gartner, Inc. "One of the main reasons for the decline in revenue in the AD market in 2009 was the de facto spending freeze on new projects in the early part of the year, which caused organizations to cut spending on new tools to support any new projects," said Laurie Wurster, research director at Gartner. "AD tool spending tends to be cyclical in nature with strong years of spending, as we saw in 2007, followed by a year or two of low or reduced investment." Ms.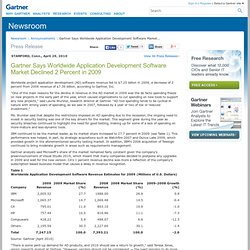 Embedded Software and Tools Market Update & Outlook