Windows Phone
The Best Windows Phone 7 Apps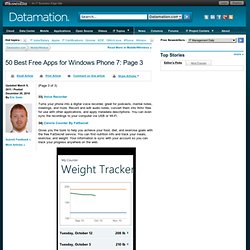 Turns your phone into a digital voice recorder, great for podcasts, mental notes, meetings, and more. Record and edit audio notes, convert them into WAV files for use with other applications, and apply metadata descriptions. You can even sync the recordings to your computer via USB or Wi-Fi. Gives you the tools to help you achieve your food, diet, and exercise goals with the free FatSecret service. You can find nutrition info and track your meals, exercise, and weight.
50 Best Free Apps for Windows Phone 7 — Datamation.com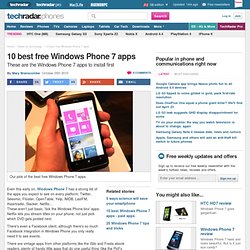 Even this early on, Windows Phone 7 has a strong list of the apps you expect to see on every platform; Twitter, Seesmic, Flixster, OpenTable, Yelp, IMDB, LastFM, Iheartradio, Slacker, Netflix… These aren't just basic, 'tick the Windows Phone box' apps; Netflix lets you stream titles on your phone, not just pick which DVD gets posted next. There's even a Facebook client, although there's so much Facebook integration in Windows Phone you only really need it to see events.
10 best free Windows Phone 7 apps