Veille 5 janvier
Grand Forte Presents - Crooked I - "Mr. Pigface" OFFICIAL VIDEO HQ
Freestyle De Rue R E D K Carpe Diem Marseille
STAMINA FEAT LE CSEN - LENDEMAIN DE FETE
Stream
Chewing Gum - ODEZENNE
The Elimination of the Major Label Model
This comment was left by Ritch Esra, the Publisher of Music Business Registry, on the post 6 Reasons Why The Major Labels Are Still Screwed. The four major labels have a far more profound problem which is that they can no longer sustain their business model.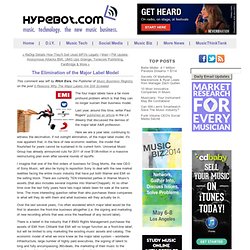 We're New Here
Welcome to the Gil Scott-Heron and Jamie xx "We're New Here" Album Transmitter.
Les marques comprennent qu'avec les médias sociaux, l'idée n'est plus seulement de faire de la promotion mais de rentrer dans les conversations. En ce sens, chaque marque, en cohérence avec son positionnement, son territoire de communication et les attentes des internautes ciblées doit définir sa posture conversationnelle (la posture conversationnelle d'une entreprise est la démarche que celle-ci met en place pour ouvrir le dialogue avec ses clients ou membres d'une communauté). La question à se poser est celle des messages et de la légitimité à prendre la parole sur tel ou tel sujet.
La légitimité de la prise de parole d'une marque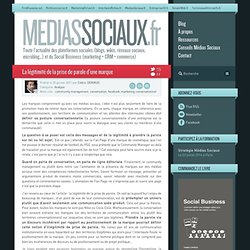 Facebook s'attaque au marché de la musique digitale - Bizness - News - Musique info - Le magazine de la filière musicale
Valery__/blogs-webzines-musicaux-21
Quora is the newest kid on the social media block. In this article we discuss its question based social interface as well as its benefits to both brands and professionals.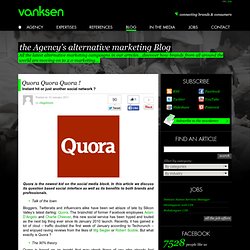 Quora Quora Quora !
If the popular misreading of Mayan mythology is correct, we have fewer than two more years left on this Earth. That leaves precious little time for the tech industry to develop and perfect of all the cool technologies that sci-fi authors have dreamed up over the years.