Veille 5 janvier
Grand Forte Presents - Crooked I - "Mr. Pigface" OFFICIAL VIDEO HQ. Freestyle De Rue R E D K Carpe Diem Marseille. STAMINA FEAT LE CSEN - LENDEMAIN DE FETE. Stream. Chewing Gum - ODEZENNE. The Elimination of the Major Label Model. This comment was left by Ritch Esra, the Publisher of Music Business Registry, on the post 6 Reasons Why The Major Labels Are Still Screwed.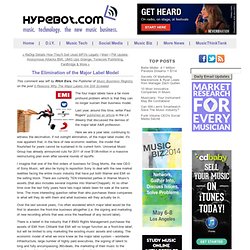 The four major labels have a far more profound problem which is that they can no longer sustain their business model. Last year, around this time, writer Paul Rogers' published an article in the LA Weekly that discussed the demise of the major label A&R profession. Here we are a year later, continuing to witness the decimation, if not outright elimination, of the major label model. It's now apparent that, in the face of new economic realities, the model that flourished for years cannot be sustained in its current form. Universal Music Group has already announced cuts for 2011 of over $138-million in a massive restructuring plan even after several rounds of layoffs.
We're New Here. Welcome to the Gil Scott-Heron and Jamie xx "We're New Here" Album Transmitter.
We are transmitting the album from several locations across the globe. To be able to listen, all you need to do is go to werenewhere.com/radio from your smartphone when you're within range of one of the transmitters. This receiver relies on HTML5 technologies, so will only work on recent smartphones (including iPhones, iPods, iPads and Android phones running OS 2.3). La légitimité de la prise de parole d'une marque. Les marques comprennent qu'avec les médias sociaux, l'idée n'est plus seulement de faire de la promotion mais de rentrer dans les conversations.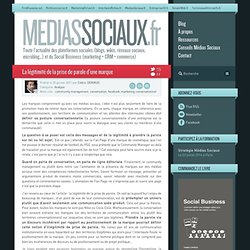 En ce sens, chaque marque, en cohérence avec son positionnement, son territoire de communication et les attentes des internautes ciblées doit définir sa posture conversationnelle (la posture conversationnelle d'une entreprise est la démarche que celle-ci met en place pour ouvrir le dialogue avec ses clients ou membres d'une communauté). La question à se poser est celle des messages et de la légitimité à prendre la parole sur tel ou tel sujet. Valery__/blogs-webzines-musicaux-21... Quora Quora Quora ! Quora is the newest kid on the social media block.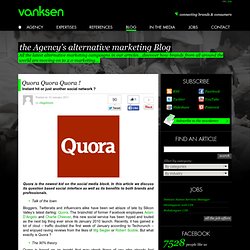 In this article we discuss its question based social interface as well as its benefits to both brands and professionals. Talk of the town The 90% theory Quora is based on an insight that may shock those of you who already feel saturated by too much online information: roughly 90% of what people know is locked up inside their heads. Practical experience, technical know-how, words of advice, crucial wisdom and all sorts of wasted knowledge that never make it online. 40+ Things You Need to Watch in 2011. If the popular misreading of Mayan mythology is correct, we have fewer than two more years left on this Earth.
That leaves precious little time for the tech industry to develop and perfect of all the cool technologies that sci-fi authors have dreamed up over the years. Still, while a December 2012 apocalypse may spell doom for the commercial viability of hovercars, it doesn't mean that the next couple of years in tech will be dull — quite the contrary. 2011 is already shaping up to be a banner year for tech and web innovation. Below is a list of over 40 websites, apps, companies, gadgets and technologies that the editors of Mashable think that you should keep an eye on over the coming year. None of them let you zoom through the air over traffic, but they're definitely all worth a look.
Be sure to click through to each article to see our full write ups on individual entries, and let us know in the comments what you're looking out for in 2011.
---