PRODUCTORAS
TriggerHappyProductions | trigger happy productions GmbH | Commercial Film and TV Production Company in Berlin
Enjoy the trailer for the 95 min. feature documentary directed by Ralf Schmerberg. The film is about the journey it takes, when someone decides to devote his life to you music. It will be premiered in 61+ cities around the world on February 17th. Starting from February 18th you can watch the film for free on http://redbullmusicacademy.com See more at http://mindpirates.org/verein/?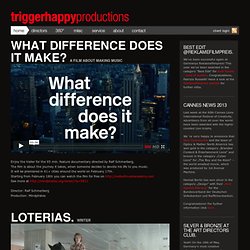 Testicular Cancer Canada "Cop" Matthew Swanson Chevy "The New Efficieint" Phil Morrison The Mercadantes' Dick's Sporting Goods featured in Creativity Visa "Night Swim" Martin de Thurah Netflix "Pep Talk" Michael Downing Facebook "Big Sister" The Mercadantes
LATEST WORK | Epoch Films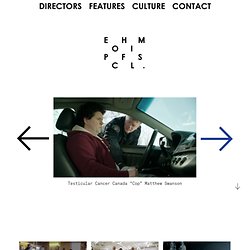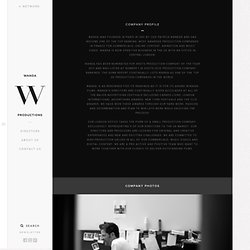 Company profile Wanda was founded in Paris in 1991 by CEO Patrick Barbier and has become one of the top ranking, most awarded production companies in France for commercials, online content, animation and music video. Wanda is now open for business in the UK with an office in Central London. Wanda has been nominated for Shots Production Company of the year 2011 and was listed at Number 1 in Shots 2010 Production Company rankings. The Gunn report continually lists Wanda as one of the top 20 production companies in the world. Wanda is as renowned for its rankings as it is for its award winning films.
Productions - About
Somesuch & Co
BLACK HAND CINEMA - Anthony Mandler
Parkvillage
Categories - Academy Films
Black Dog Films » Directors US
PARK PICTURES
December 2013 Rattling Stick named Production Company of the Year in the Campaign Annual 2013. Ed Morris and Andy Mcleod both make the Top Ten director list. Andy's Cesar film ranks in the Best Ads and Ed's DFT viral in the Best Digital Innovation categories. World-renowned choreographer, dancer and film director Benjamin Millepied joins our roster to work on commercial briefs and to develop creative content and entertainment productions. Click here to watch his reel.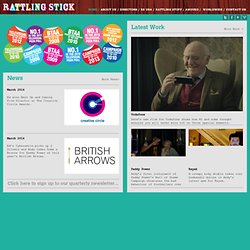 Rattling Stick
Stink.tv
Directors And Work » Smuggler
Blink was named 'Production Company of the Year' at the 2014 Creative Circle Awards, having already received the title at the 2013 British Arrows, the 2012 and 2011 Campaign Media Awards and the 2011 Televisual Awards. Thanks to another year of outstanding work from our directors, commercials produced by Blink were met with widespread acclaim across the industry in 2013, and look set to continue that run into 2014. In 2013, Dougal Wilson set the bar high once again, bringing home 7 Gold British Arrows for his industry-defining spots 'Rainbow' for Lurpak, 'Playin' with my Friends' for Ikea, and 'The Long Wait', his second Christmas film for John Lewis. The 2013 British Arrows also saw Blink bring home the Arrow for Best Commercial of the Year. 2013 also saw Dougal's colourful spot for Ikea receive Gold and Silver Cannes Lions, while Blink also won the Cannes Lions Grand Prix for its film branding Channel 4's London Paralympics coverage.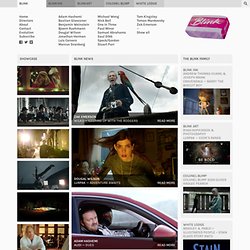 Blink Productions - View Dougal Wilson Work
GANG FILMS News and Recent Works
Kuntz Manor