BLOGS
Travel photography, Fashion photography, Documentary photography, Editorial photography, and Portrait Photographers: Feature Shoot
With the demise of our blogroll in our new site design, we thought we'd shine the light on 50 unique photography-based websites that inspire us on a daily basis. While we follow many great sites not listed here, we decided to compile a diverse selection of those that you may not already know about. The blogs you see here met our criteria of being regularly updated and showcasing work we find to be consistently awesome. Think we are missing someone noteworthy?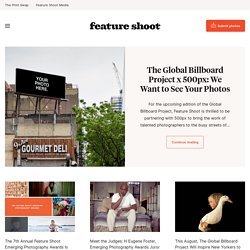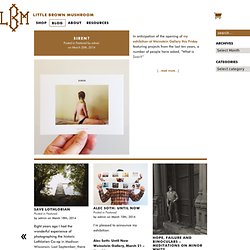 From November 19 through December 3, The LBM Dispatch was on the road in the Lone Star State, exploring the people, places, and mythology of the megapolitan area known as the Texaplex. Our rambles in this 60,000-square-mile, roughly triangular territory, home to more than 70% of the Texas population, included the cities of Dallas, Fort Worth, Austin, Houston, Galveston, and San Antonio, as well as countless small communities where the Old South and the Wild West converge to create an utterly unique culture that continues to loom large in the national imagination. The results of those travels is Texas Triangle, which includes pictures and stories from the 50th anniversary of the J.F.K. assassination, Texas high school football playoffs, Thanksgiving in Houston, the birthplace of Jack Johnson, and the State's 16th (and final) execution of 2013.
English version is after spanish text. Tomás López (y esto es todo lo que sé de él) me escribe un mail en el que me cuenta que después de 6 años educándose a sí mismo en fotografía, está un poco perdido. Cito: "Ahora estoy perdido…..hay tantas maneras de contar una historia, tantas maneras diferentes que me gustan….que ahora no se como contar mis historias. Creo que he perdido la inocencia de la ignorancia y ademas me he dado cuenta de que no se por donde empezar un trabajo.
Asuntos Fotográficos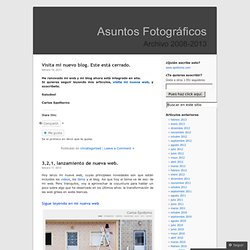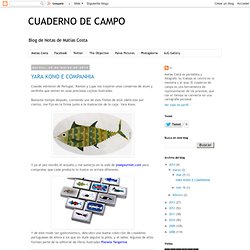 CUADERNO DE CAMPO
Me gustaría hablar brevemente del proyecto The Family Project y de cómo ha sido el cruce de caminos con el proyecto de la colección Bokeh. Creo que vivimos una época de cierta confusión con respecto a la velocidad y los procesos. Cualquiera que haga fotos con su móvil obtiene un aspecto estéticamente atractivo y las sube enseguida a las redes sociales y recibe inmediatamente una valoración (casi siempre positiva) de su creación, que apenas tiene unos segundos de existencia. Lo mismo ocurre en Twitter, donde se emiten citas a modo de frases célebres, que también cosechan un aplauso efímero. Creo que todo esto tiene que ver con lo social, pero no con lo creativo, y mucho menos con lo introspectivo. Yo defiendo que para profundizar en lo que uno quiere contar se precisa de cierta soledad, de un porcentaje alto de anonimato y de no estar permanentemente expuesto a la mirada sobre tu trabajo durante el proceso de construcción.
Curso Anual de Desarrollo de Proyectos Fotograficos Curso anual, participativo y dinámico, orientado al desarrollo de proyectos fotográficos. Está basado en la buena experiencia que tuvimos con el Curso de Especialización en Fotografía Contemporánea, que se impartió en el Museo de Bellas Artes de Murcia durante el curso 2012-13. Estableceremos un dialogo entre la fotografía clásica y contemporánea; navegaremos entre mares llenos de imágenes, emociones e ideas; aprenderemos a expresarnos con cualquier cámara fotográfica; construiremos universos narrativos personales e investigaremos sobre los medios que podemos usar para comunicar nuestro proyecto.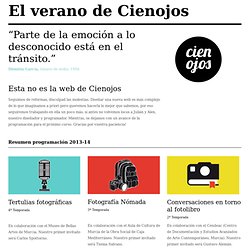 Cienojos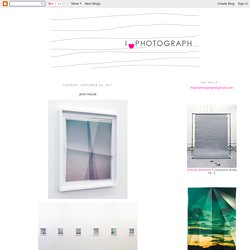 Hi everyone, I'm super excited to be this week's guest blogger. The following images made me want to go on a road trip. Hope you enjoy them as much as I did. I am also adding a few links where you can find some interesting "quilt trails" across rural America. The quilt trails are part of a growing phenomenon that has swept across rural America involving 29 states and two Canadian provinces.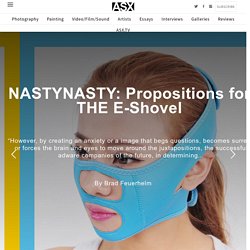 In the fall of 1990, Keizo Kitajima received a commission from Japan's Asahi Shimbun newspaper to visit the Soviet Union, the opportunity to spend a year documenting both people and places in what was then a monolithic entity. 15 republics, 11 time zones, and thousands of miles spanning the two—the task was daunting in the All the Clothes of a Woman, 1970′s By Roy Arden, This curator's text was originally published for the exhibition 'Hans-Peter Feldmann' at the Contemporary Art Gallery, Vancouver, June 9 – August 20, 2006. Hans-Peter Feldmann's oeuvre includes works in many media, from painting to sculpture, installation, photography, collage, bookworks, archives or collections of images, objects, etc, however HANS-PETER FELDMANN: "Hans-Peter Feldmann" (2006)