SEO
The 2013 SEO Checklist | ClickMinded
Every time I start a new website, I typically find myself doing the same things over and over, in order to lay the foundation for solid on page-optimization. I originally wrote this checklist for my SEO training course. Ironically, it now ranks quite well for "SEO Checklist", and gets a few hundred unique visitors a day. This list covers the top 30 things you should consider when it comes to getting a new site live and into the search index. It has been updated for 2013. It uses a simple script to tally everything you check off.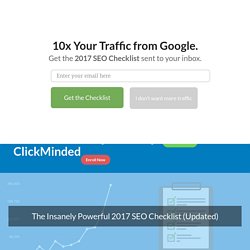 Backlink History Checker Our Backlink History tool allows SEOs to determine the number of backlinks detected by our sophisticated web robots for given domains, subdomains or URLs. Registered users can compare up to 5 domains simultaneously, allowing SEOs to compare our backlink discovery growth rate for competing domains! Link Intelligence API We are the ultimate custodians of the data behind world's most advanced link intelligence map. We specialize in link development, online reputation management, SEO consulting, audits, and content creation. We aren't generalists, we're skilled professionals who help grow your brand online through strategic, long-term engagements. What are our rates? Price shouldn't be the deciding factor when choosing an Internet marketing company.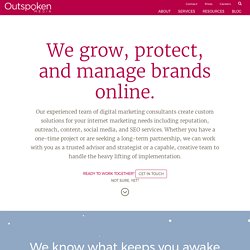 Internet Marketing Company and SEO Consultants | Outspoken Media
5.7K Flares5.7K Flares × Note: the wording of this page was changed from "strategies" to "tactics" since that's exactly what they are: tactics. This is the most complete list of link building tactics on the Web, period. I created it because the best tactics are never found in one place, and the most complete lists are completely outdated.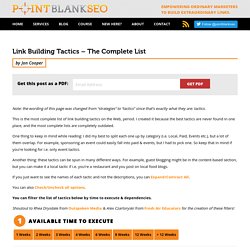 Thanks for using our free tool - you seem to have stumbled across something that's restricted in this version. You can upgrade really easily to our free trial (7 days of the full tool for absolutely nothing!) and you'll be able to use all of these features.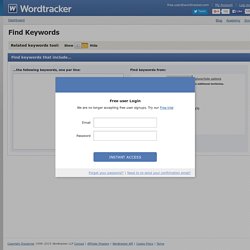 Insights for Search - Web Search Interest - Worldwide, 2004 - present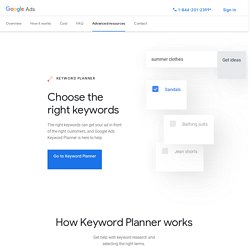 Search for new keyword or ad group ideas Keyword Planner is like a workshop for building new Search Network campaigns or expanding existing ones. You can search for keyword and ad group ideas, get historical statistics, see how a list of keywords might perform, and even create a new keyword list by multiplying several lists of keywords together. A free AdWords tool, Keyword Planner can also help you choose competitive bids and budgets to use with your campaigns.
Free Website SEO Analysis Report | SEOzio Tool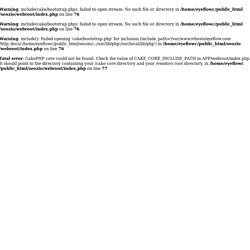 SEOzio, Your Virtual SEO Consultant Like an SEO consultant, SEOzio gathers information about your website. Unlike an SEO consultant, it analyzes dozens of factors in seconds. This information comes from a variety of sources, including search engines, highly regarded SEO tools, and your very own website.
Reverse IP lookup - IPv6
General Directories vs Niche Directories vs Regional Directories vs Business Directory Webmasters prefer general directories than search engines because they can always find a suitable category for almost any kind of website. For end-users general directories are useless. Most of them close a site when they see a directory because they think it's a parked domain. This makes general web directories good for link juice only.
Add URL : SEO friendly directory list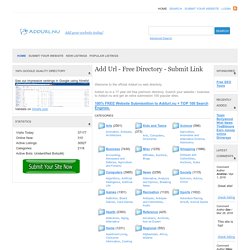 HTML Batch Validation Tool - WDG HTML/XHTML Validator Service
The WDG HTML Validator will validate up to 100 pages from a single website if you check Validate Entire Site. Enter the URI of an HTML/XHTML document to validate in the form field below. HTML Batch Validation Tool WDG HTML/XHTML Validator Instructions When you enter the root level URI and check the Validate Entire Site box from the four options available above, the HTML validator will check linked pages at the root level and then additional linked pages at /child/ levels until it reaches its maximum of 100 URIs.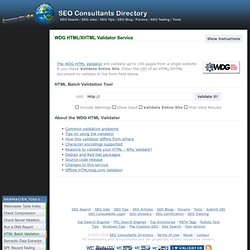 CSS Compressor
All you have to do is enter your location information. We do the rest. We take the time commitment and hassle out of updating listings. Moz Local pushes accurate location data to all the major data aggregators and several top-tier online directories, helps you close duplicate business listings, and lets you easily update your business listings. When your listings are correct and consistent online, new customers can discover your business.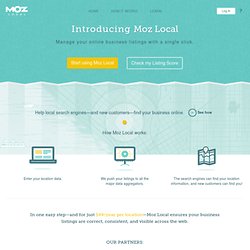 SEO Tool ABAKUS Topword V.1