Video-tchatche
How to stream and record video chat interview « djchuang.com. When I saw this recorded video of 2 people on webcams in 2 separate locations talking with each other, be it discussion or debate or interview, I started on a rampant search for how to produce that kind of a video.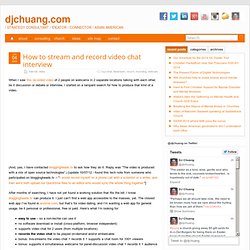 (And, yes, I have contacted bloggingheads.tv to ask how they do it. Reply was "The video is produced with a mix of open source technologies".) [update 10/07/12 - found this tech note from someone who participated on bloggingheads.tv -- "I would record myself on a phone call with a scientist or a writer, and then we'd both upload our Quicktime files to an editor who would sync the whole thing together. "] After months of searching, I have not yet found a working solution that fits the bill.
I know bloggingheads.tv can produce it. Video Interview: enregistrer. Web Video Chat Platforms - Choosing The Best Video Chat Service. Author and Streaming Media Allstar Steve Garfield, talks about how to choose the best video chat solution for your online marketing efforts.
Steve explains his belief that the simple video chat solutions tend to work best, provides an overview of interactive features, talks about how to get good production quality in video chat, and tells us what he sees as the "next big thing" in web video chat technology and online marketing. [powerpress] The following is a transcript from my interview with Steve Garfield (with some liberties taken on piecing text parts together to make it a more cohesive read.)
Or, click the play button above to listen to the podcast in its full, unedited form.
---