Flash cards
Flashcards Deluxe
About Dropbox Dropbox is a free service that allows you to store your files online. By installing their client on your PC/Mac, Dropbox will create a special folder on your local hard drive and keep this folder in-sync with their online data. So, instead of dealing with files though a web-browser, you use Windows Explorer or Finder (Mac). Here's how it works with Flashcards Deluxe... In your Dropbox folder (on your local hard drive), create a subfolder called "Flashcards Deluxe".
An amazing app! So easily customisable once you have bought it! Just great! You can record the pronuniciation of a word, add an image. Save it for yourself or share it with others. You can be independant from the original website; then sharing privately with friends or acquaintances instead of sharing it with all the people buying the app. Cusomisable. Amazing! You can help yourself learn all kind of things, not only languages. Easy edition of lists which are on Excel for example. Woaw! Very useful and efficient! by dzakyem Jul 27
VTrain, the Vocabulary Software adopted by 50 Universities (voca
How to Create Flash Quizzes With Sound
CueCard - Free software downloads and software reviews - CNET Do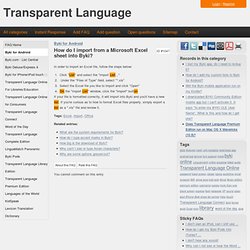 In order to import an Excel file, follow the steps below: Click "List" and select the "Import List..." Under the "Files of Type" field, select "*.xls"Select the Excel file you like to import and click "Open"On the "Import List" window, click the "Import" button If your file is formatted correctly, it will import into Byki and you'll have a new list.
Language FAQ Knowledgebase - How do I import from a Microsoft Excel sheet into Byki?