Flash cards
Flashcards Deluxe. About Dropbox Dropbox is a free service that allows you to store your files online.
By installing their client on your PC/Mac, Dropbox will create a special folder on your local hard drive and keep this folder in-sync with their online data. So, instead of dealing with files though a web-browser, you use Windows Explorer or Finder (Mac). Here's how it works with Flashcards Deluxe... In your Dropbox folder (on your local hard drive), create a subfolder called "Flashcards Deluxe". VTrain, the Vocabulary Software adopted by 50 Universities (voca. Flash cards, vocabulary memorization, and studying games | Quizl. How to Create Flash Quizzes With Sound. Free Flashcards Maker: Create Free Online Flash Cards.
CueCard - Free software downloads and software reviews - CNET Do. Language FAQ Knowledgebase - How do I import from a Microsoft Excel sheet into Byki? In order to import an Excel file, follow the steps below: Click "List" and select the "Import List...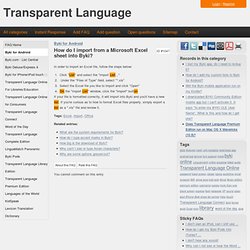 " Under the "Files of Type" field, select "*.xls"Select the Excel file you like to import and click "Open"On the "Import List" window, click the "Import" button If your file is formatted correctly, it will import into Byki and you'll have a new list.
---