Create an iphone app
iPhone Mobile Application Development | Mobile Application Development | iPhone Application Development Company. Download and install iPhone/iPad SDK. If you want to start developing for the iPhone, iPod Touch, or iPad, the first thing you'll need to do is download and install the iPhone SDK.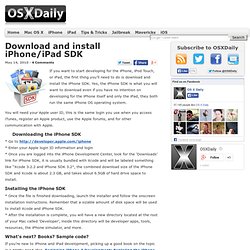 Yes, the iPhone SDK is what you will want to download even if you have no intention on developing for the iPhone itself and only the iPad, they both run the same iPhone OS operating system. You will need your Apple user ID, this is the same login you use when you access iTunes, register an Apple product, use the Apple forums, and for other communication with Apple. Downloading the iPhone SDK * Go to * Enter your Apple login ID information and login * Once you are logged into the iPhone Development Center, look for the 'Downloads' link for iPhone SDK, it is usually bundled with Xcode and will be labeled something like "Xcode 3.2.2 and iPhone SDK 3.2″, the combined download size of the iPhone SDK and Xcode is about 2.3 GB, and takes about 6.5GB of hard drive space to install.
About Us : iPhone App Development Companies : App Development Company UK : BudgetAppDev.com. Well, you can go with one of the big agencies, but that will set you back anywhere between $10,000 and $20,000.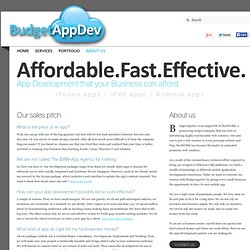 Or you can try to make an app yourself. After all, how much more difficult is it from the company blog you made? Beginning iPhone 3 Development: Exploring the iPhone SDK (9781430224594): Dave Mark, Jeff LaMarche.
---