Internet
Shape the Hive What are humans, really, but so many bees, buzzing away? That's the question (we think) asked by Shape The Hive, a visual "experiment in digital collaboration."
100 Websites To See Before You Die (Part 1) - Page 2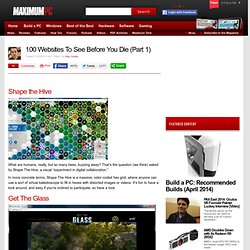 Today Show January 1994...What is the Internet??
How-to-make-money-web-10001.jpg (JPEG Image, 1000x2984 pixels)
Ge.tt | Gett sharing
The Internet Rainbow
Web Trend Map 4 by Information Architects Inc | Powered by OpenZoom
i-am-hungary-17701-1288728243-24.jpg (JPEG Image, 500x463 pixels)
241543903
The Top of the Internet
The Bottom of the Internet
Humanity Lobotomy - Second Draft
Science Fail Followed by Science Win [Pic]
drm_buss960.gif (GIF Image, 421x269 pixels)
The Open Internet: A Case for Net Neutrality
WHEN George W. Bush referred to "rumours on the, uh, internets" during the 2004 presidential campaign, he was derided for his cluelessness—and "internets" became a shorthand for a lack of understanding of the online world. But what looked like ignorance then looks like prescience now. As divergent forces tug at the internet, it is in danger of losing its universality and splintering into separate digital domains. The internet is as much a trade pact as an invention. A network of networks, it has grown at an astonishing rate over the past 15 years because the bigger it got, the more it made sense for other networks to connect to it.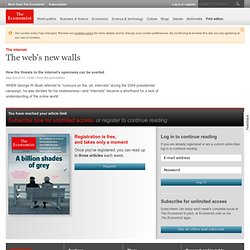 The internet: The web's new walls
Future of Internet Search: Mobile version on the Behance Network