Computers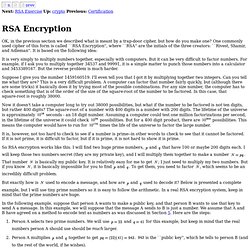 RSA Encryption
Next: RSA Exercise Up: crypto Previous: Certification OK, in the previous section we described what is meant by a trap-door cipher, but how do you make one? One commonly used cipher of this form is called ``RSA Encryption'', where ``RSA'' are the initials of the three creators: ``Rivest, Shamir, and Adleman''. It is based on the following idea: It is very simply to multiply numbers together, especially with computers.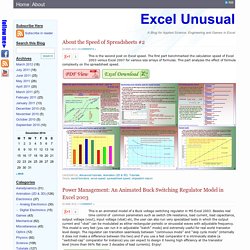 About the Speed of Spreadsheets #2 This is the second post on Excel speed. The first part benchmarked the calculation speed of Excel 2003 versus Excel 2007 for various size arrays of formulas. This part analyzes the effect of formula complexity on the spreadsheet speed.
ExcelUnusual - outstanding methods for creating engineering, scientific, technical models and games in excel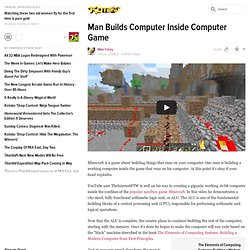 Man Builds Computer Inside Computer Game
Minecraft is a game about building things that runs on your computer. One man is building a working computer inside the game that runs on his computer. At this point it's okay if your head explodes. YouTube user TheInternetFTW is well on his way to creating a gigantic working 16-bit computer inside the confines of the popular sandbox game Minecraft. In this video he demonstrates a city-sized, fully-functional arithmetic logic unit, or ALU. The ALU is one of the fundamental building blocks of a central processing unit (CPU), responsible for performing arithmetic and logical operations.
Graphing Calculator Story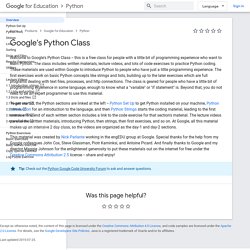 Welcome to Google's Python Class -- this is a free class for people with a little bit of programming experience who want to learn Python. The class includes written materials, lecture videos, and lots of code exercises to practice Python coding. These materials are used within Google to introduce Python to people who have just a little programming experience. The first exercises work on basic Python concepts like strings and lists, building up to the later exercises which are full programs dealing with text files, processes, and http connections. The class is geared for people who have a little bit of programming experience in some language, enough to know what a "variable" or "if statement" is.
New Tech Support Pricing Structure