Computers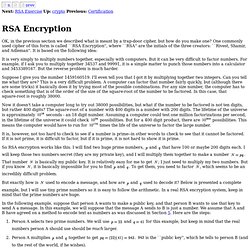 RSA Encryption
Next: RSA Exercise Up: crypto Previous: Certification OK, in the previous section we described what is meant by a trap-door cipher, but how do you make one? One commonly used cipher of this form is called ``RSA Encryption'', where ``RSA'' are the initials of the three creators: ``Rivest, Shamir, and Adleman''. It is based on the following idea: It is very simply to multiply numbers together, especially with computers.
ExcelUnusual - outstanding methods for creating engineering, scientific, technical models and games in excel
Man Builds Computer Inside Computer Game
Graphing Calculator Story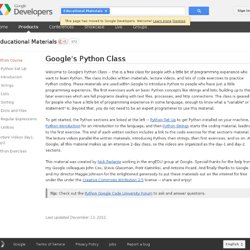 Welcome to Google's Python Class -- this is a free class for people with a little bit of programming experience who want to learn Python. The class includes written materials, lecture videos, and lots of code exercises to practice Python coding. These materials are used within Google to introduce Python to people who have just a little programming experience.
New Tech Support Pricing Structure