Clothing and Misc
Latex Clothing and Latex Kimonos by Dawnamatrix Designs Latex Fashions
Cryoflesh.com
Bleeding Star Clothing
Torture Couture - Gothic Jewelry, Accessories - Lolita - Dark Haute Jewelry
Licensing The famous collection of Alchemy Gothic artworks, paintings and graphics is a vast resource of superior and popular images covering several cult genres; Medieval and Victorian gothic; the supernatural and occult; astrology and divination; myth, magic, legend and fantasy. Alchemy Art, Concepts and Product design partnerships. Alchemy Licensing: 'Alchemy Gothic', 'Alchemy England', 'Alchemy UL13' and 'A7 - Alchemy Licensed Designs' are all brand names for Alchemy licensed products available around the world.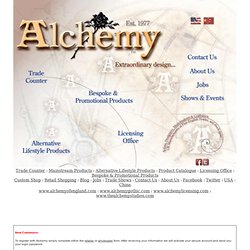 DESIGNERS AND UK MANUFACTURERS OF ENGLISH PEWTER: gothic jewellery, giftware, flasks, tankards, custom design and gothic art.
Steampunk Emporium -- Steampunk Clothing from Gentleman's Emporium
Ul13 Alchemy : Urban Accessories.
New Alchemy Gothic items available Collection of jewellery and giftware from the studios of Alchemy. NEW : Alchemy Playing Cards (CARD8) A full set of playing cards, featuring a plethora of original Alchemy artwork. Alchemy Gothic! - Pendants/Rings/Buckles!!. We sell the entire Alchemy Gothic Range: Rings / Pendants / T-Shirts Plus many more Alchemy Gothic designs.
Rock 'n' Goth Shop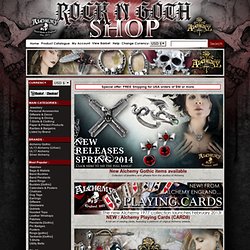 MetalCouture.com [WLG]
Rock Czar Clothing
Cyber Mask & Steampunk | Cyber Goth Industrial Gas Mask | Obscuria Gothic Shop