Clothing and Misc
Latex Clothing and Latex Kimonos by Dawnamatrix Designs Latex Fashions
Cryoflesh.com
Bleeding Star Clothing
TORTURE TumblinA TORTURE(d) BLOG Join me every day as I murder and morph my supplies into stuff you can wear. And post our #torturecouture #torturedarmy And other stuff. Stay Torture(d) torturecouture.tumblr.com How to Make Edible F… HELLO TORTURE FIENDS! Looking for THE Halloween Party to be at this Weekend? We have MACABRE MASQUERADE coming up Saturday October 19th, at Club Red in Tempe, AZ!
Torture Couture - Gothic Jewelry, Accessories - Lolita - Dark Haute Jewelry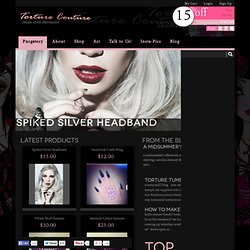 Licensing The famous collection of Alchemy Gothic artworks, paintings and graphics is a vast resource of superior and popular images covering several cult genres; Medieval and Victorian gothic; the supernatural and occult; astrology and divination; myth, magic, legend and fantasy. Alchemy Art, Concepts and Product design partnerships. Alchemy Licensing: 'Alchemy Gothic', 'Alchemy England', 'Alchemy UL13' and 'A7 - Alchemy Licensed Designs' are all brand names for Alchemy licensed products available around the world.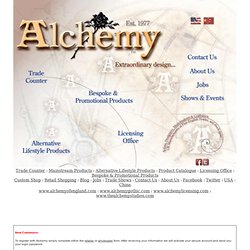 DESIGNERS AND UK MANUFACTURERS OF ENGLISH PEWTER: gothic jewellery, giftware, flasks, tankards, custom design and gothic art.
Steampunk Emporium -- Steampunk Clothing from Gentleman's Emporium
Ul13 Alchemy : Urban Accessories.
New Alchemy Gothic items available Collection of jewellery and giftware from the studios of Alchemy. NEW : Alchemy Playing Cards (CARD8) A full set of playing cards, featuring a plethora of original Alchemy artwork. Alchemy Gothic! - Pendants/Rings/Buckles!!. We sell the entire Alchemy Gothic Range: Rings / Pendants / T-Shirts Plus many more Alchemy Gothic designs.
Rock 'n' Goth Shop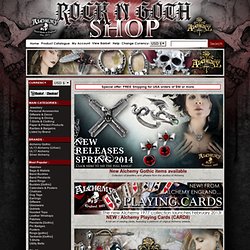 MetalCouture.com [WLG]
Rock Czar Clothing
Cyber Mask & Steampunk | Cyber Goth Industrial Gas Mask | Obscuria Gothic Shop